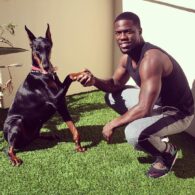 Roxy
Hart has said that he used walk around his two dobermans naked, until the kept sniffing his butt. He also says he spoils them all the time, giving them treats whenever he leaves and comes back home. He also shared a video the day he picked up Roxy and you can also see Riggs the mini-pinscher there as well.
Jalen Hurts the $16.5 Million Eagle
Philadelphia Eagles superfan Kevin Hart showed off a new pet eagle on his Instagram to celebrate Super Bowl LVII, which he named after Philly QB Jalen Hurts. Hart claims the eagle cost him $16.5 million and included an eagle trainer that will be living with him for two months. lol.
Kevin Darnell Hart is just known as Kevin Hart. He's known to love dogs, and dislike cats. Hart is one of the most successful comedians with an estimated net worth of $62 million. He got his start winning amateur comedy competitions, leading him to his first acting role in Judd Apatow's Undeclared in the year 2000. His career as an actor and a stand up comic continued to grow through the 2000s which landed him roles in movies like Scary Movie 3, Soul Plane, Little Fockers and more.
Kevin Hart Career History
In 2009 he started touring as a standup comic with several highly successful acts, such as "I'm a Grown Little Man", "Laugh at My Pain" and his TV special "Let Me Explain" in 2013. His has acted in big budget comedies over the last few years to great success as well, including Ride Along with Ice Cube, Get Hard with Will Ferrell and Central Intelligence with Dwayne Johnson.
Kevin Hart Dogs
Kevin Hart has two dogs, one doberman pinscher and one mini-pinscher – which looks like a breed of mini-doberman but technically, comes from a combination of the German Pinscher, the smooth Dachshund, and the Italian Greyhound breeds. Who would have known.
Both dogs love to watch TV, especially other dogs, with Hart saying they aspire to join the entertainment industry. He recently starred as a rabbit in the animated movie The Secret Life of Pets, hopefully the dogs won't watch that and decide to chase Hart around his house.