 No Pets (Muhammad Ali)
Boxing legend Muhammad Ali didn't have any reported pets or spoke about having pets. But he was photographed with a dog on the grounds of his training camp in the 1970s, which may have been his.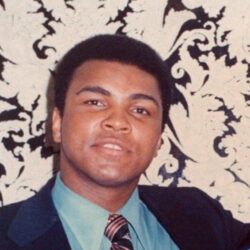 Birthday
January 17, 1942 (81)
Muhammad Ali, born Cassius Marcellus Clay Jr., was an American professional boxer who became a cultural icon of the 20th century. He is widely considered one of the greatest boxers of all time and is known for his charismatic personality and quick wit. His most famous fight was the "Rumble in the Jungle" where he won as the underdog against George Foreman.
Ali began his boxing career in the late 1950s and quickly gained a reputation as a talented and exciting fighter. He won his first professional fight in 1960 and quickly rose through the ranks, winning the heavyweight championship in 1964 after defeating Sonny Liston in a stunning upset.
Over the next decade, Ali became one of the most dominant and recognizable figures in sports. He fought many of the greatest boxers of his era, including Joe Frazier, George Foreman, and Ken Norton, and won numerous titles and accolades. He was also a vocal activist for civil rights and social justice, often using his platform to speak out against racism and inequality.
In addition to his boxing career, Ali was associated with many notable figures in the arts and entertainment world. He appeared in several movies and television shows, including "The Greatest," a biopic about his life that was released in 1977. He also had friendships with musicians such as James Brown and Stevie Wonder, and was known for his love of poetry and literature.