 Janie
Janie is young at heart and still acts like a puppy. She is a Catahoula leopard dog, which is the state dog of Louisiana and known as a strong, hound-like breed that works in forests and swamps.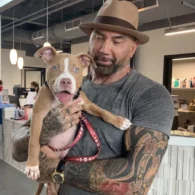 Penny
David rescued Penny when she was three months old after she had been horribly abused. She was adopted from the Humane Society of Tampa Bay and immediately underwent surgery to remove a metal chain that was embedded into her neck. She has since fully recovered and is being spoiled with love and affection in her new home. In an attempt to arrest Penny's abuser David offered $5,000 in cash to anyone who could provide information.
David Michael Bautista Jr. is also known as Dave Bautista. Bautista is an advocate for animal rescue and he is passionate about helping pups in need with the Humane Society in Tampa Bay. He has also appeared in a Humane Society video to help fight the negative stereotypes of certain dog breeds, such as pit bulls. David Bautista is known for his love of dogs, most notably pit bulls, rescuing three of them in the last two years. Bautista is actor and former professional wrestler who was signed to the WWE from 2002 to 2010, in 2014, and one final run in 2018–2019.. He started his acting career in 2006, with his first notable roles including The Man with the Iron Fists (2012), Riddick (2013) with Vin Diesel and James Bond: Spectre (2015) with Daniel Craig. He is best known for starring as Drax in Marvel's Guardians of the Galaxy Vol. 1 (2014) and it's sequel, alongside Chris Pratt, Zoe Saldana and Bradley Cooper.
In 2006, Bautista began starring in films such as The Man with the Iron Fists (2012), Riddick (2013), the James Bond film Spectre (2015), Blade Runner 2049 (2017), and Army of the Dead (2021). In the Marvel Cinematic Universe, he has played the role of Drax the Destroyer in the films Guardians of the Galaxy (2014), Guardians of the Galaxy Vol. 2 (2017), Avengers: Infinity War (2018), and Avengers: Endgame (2019).
Animal Rescue Advocacy
In 2021, Bautista adopted his newest pit bull pup named Penny. She was just three months old and had already suffered horrible abuse from her previous owner. "For me, nothing is as innocent and pure as a puppy," Bautista said in a humane society interview. After taking to social media, Bautista announced that he would be offering $5,000 to those who identify Penny's previous owners who abused her. HSTB joined in offering a $1,500 reward alongside actor Mickey Rourke, who offered $ 1,000.