 No Pets (Jordan Love)
Jordan Love does not have any reported pets.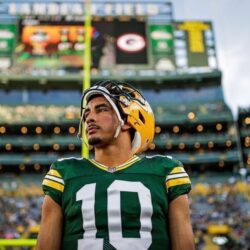 Birthday
November 2, 1998 (25)
Jordan Love is an American football quarterback for the Green Bay Packers of the National Football League. His college career at Utah State was distinguished by significant achievements, including being named to the second-team All-MWC in 2018 and earning the title of MVP of the 2018 New Mexico Bowl. Love's transition to the professional stage was marked by his selection as the 26th overall pick by the Packers in the 2020 NFL Draft.
During his tenure at Utah State, Love showcased his abilities as a formidable quarterback. His sophomore year was particularly impressive, setting a school record with 3,567 passing yards and 32 touchdowns. His performance led his team to an 11–2 record and a No. 22 ranking in the AP poll. Despite a challenging junior year with significant team changes, Love's individual talent remained evident, culminating in his decision to enter the NFL Draft after his junior season.
In the NFL, Love's journey began under the tutelage of Aaron Rodgers, one of the league's most successful quarterbacks. His early years with the Packers involved learning and development, preparing him for the starting role he would assume in the 2023 NFL season. Love's professional career has been a testament to his growth and potential, highlighted by his performances in key games, such as his first NFL start against the Kansas City Chiefs and his relief appearance against the Philadelphia Eagles, where he posted a passer rating of 146.8.
Love's collaborations with other notable figures in the NFL have been a crucial part of his career. He has worked alongside Packers' head coach Matt LaFleur, and his connection with teammates like Davante Adams, Aaron Jones, and David Bakhtiari has been pivotal.