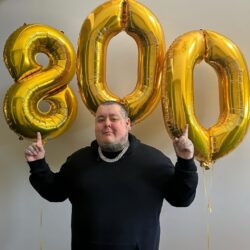 Birthday
September 27, 1992 (31)
Merkules is a Canadian rapper and songwriter, esteemed for his insightful lyrics and unique blend of hip-hop and rap. His moniker was inspired by the mythical Greek hero Hercules, signifying his resilience and strength, which is distinctly present in his impactful music and personal life.
Breaking through the cluttered rap scene with his viral cover of Ed Sheeran's "Shape of You," Merkules has been crafting his musical journey with authenticity. His raw lyrics, powerful delivery, and the ability to stir emotions through his music are evident in his studio albums, including "Scars," "Special Occasion," and "Apply Pressure." His singles like "Way Down" and "All Night Long" further underscore his undeniable talent.
Working in the music industry, Merkules has shared the stage and collaborated with numerous fellow artists. Artists such as Tech N9ne, Hopsin, and Rittz have been vital to his music journey, providing him opportunities to showcase his skills and evolve his craft. He has also collaborated with famous rappers like DMX, Paul Wall, and Bizzy Bone and Krayzie Bone of Bone Thugs-n-Harmony. Significant partnerships with Canadian artists like Snak The Ripper and Caspian have further amplified his reach, as have collaborations with international acts like Jelly Roll and Kevin Gates.
Throughout his career, Merkules' work has been recognized with several notable distinctions. In 2018, he was named Western Canadian Music Award's Rap Artist of The Year. His album "Apply Pressure" debuted at number 2 on the Billboard Canadian Albums chart.