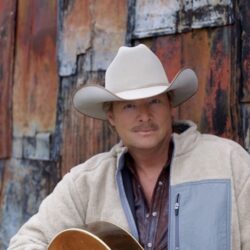 Birthday
October 17, 1958 (64)
Alan Jackson is an American country singer-songwriter, famed for his unique blend of honky-tonk and mainstream country sounds that are deeply entrenched in tradition. With his strong, soulful voice and prolific songwriting, Jackson has held an indelible influence on the country music scene for over three decades.
Emerging on the scene with his debut album "Here in the Real World" in 1990, Jackson captured the hearts of millions with his authentic Southern narrative and sincere songwriting. His breakout hit, "Chasin' That Neon Rainbow," propelled him to fame, but it was his subsequent albums that truly cemented his legacy. With more than 16 studio albums, including multi-platinum successes like "Don't Rock the Jukebox," "A Lot About Livin' (And a Little 'bout Love)," and "Who I Am," Jackson's music has become synonymous with the golden era of 90s country music. His songs, such as the poignant "Where Were You (When the World Stopped Turning)," have resonated with listeners, proving his unparalleled ability to connect with audiences through his music.
Over his illustrious career, Jackson has collaborated with several artists across diverse genres, magnifying his impact on the music industry. These collaborations include work with George Strait, Jimmy Buffett, Zac Brown Band, Patty Loveless, George Jones, and even pop sensation Kelly Clarkson, among others. His duet with Strait on "Designated Drinker" and his partnership with Jimmy Buffett on "It's Five O' Clock Somewhere" are considered memorable country classics.
Jackson's numerous awards bear testament to his enduring talent and wide-ranging appeal. He's won multiple Grammy Awards, including Best Country Song for "Where Were You (When the World Stopped Turning)" in 2002, and has been honored by the Country Music Association (CMA) and Academy of Country Music (ACM) for his contributions to the genre. He was inducted into the Grand Ole Opry in 1991 and the Country Music Hall of Fame in 2017.