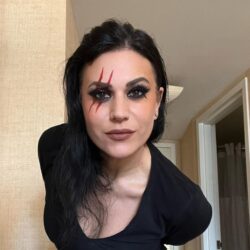 Birthday
June 5, 1972 (51)
Cristina Scabbia is an internationally recognized Italian singer and lyricist, most famous for her role as one of the lead vocalists in the heavy metal band Lacuna Coil. With her distinctive voice and striking stage presence, she has captured the hearts of millions of music lovers around the world and significantly contributed to the global popularity of Italian metal music.
Lacuna Coil, the band she joined in 1994, has played an instrumental role in shaping her career. Originally named Sleep of Right, the band later changed its name to Ethereal, and finally Lacuna Coil. They have released numerous albums such as 'In a Reverie' (1999), 'Comalies' (2002), and 'Black Anima' (2019), which have all enjoyed commercial success and contributed to the band's growing international popularity. The band's music, characterized by Scabbia's melodic lines combined with co-vocalist Andrea Ferro's growling, has become a trademark of their unique sound. Notably, 'Comalies' is often credited with bringing the Italian gothic metal scene to the forefront of international attention.
Scabbia's collaborations with various artists have also added to her growing reputation in the music industry. Among them are globally recognized musicians such as Dave Mustaine of Megadeth, with whom she worked on a version of 'À Tout le Monde.' She has lent her voice to Apocalyptica's song 'S.O.S (Anything but Love),' and to Rezophonic's 'Can You Hear Me?'. Her distinct voice can be heard in Ayreon's album 'The Source,' and she has worked with Alter Bridge's Myles Kennedy on 'Watch Over You.' Notably, she has also collaborated with Tarja Turunen, a former Nightwish vocalist.
In terms of recognitions, Scabbia and Lacuna Coil have earned a number of significant honors in their career. In 2006, they received the award for Best Italian Act at the MTV Europe Music Awards, a testament to their popularity and influence in their home country. Their album 'Karmacode' was nominated in the Album of the Year category at the 2006 Metal Hammer Golden Gods Awards. Cristina herself has been highlighted by Revolver Magazine in their annual "Hottest Chicks in Metal" features, further showcasing her impact on the metal scene.