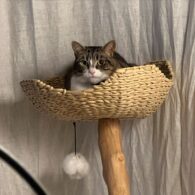 Juno (Cat)
In a interview with The New York Times, it was mentioned that a surefire way to get Robin Skinner, known musically as Cavetown, to warm up is by inquiring about his cat, Juno. Typically reserved and cautious in conversation, Skinner becomes notably animated when recounting Juno's journey from a shy kitten, initially hiding for a week upon arrival at his London residence, to becoming a cherished companion now ruling over the windowsills in his Cambridge abode.
Cavetown, born Robin Skinner, is an English singer-songwriter and YouTube personality recognized for his gentle, heartfelt tunes often accompanied by ukelele strums. His career trajectory took a significant upturn with the release of his third album "Lemon Boy" in 2018, which garnered widespread appreciation, propelling his musical persona into the limelight. The album's title track became a symbolic representation of his nuanced, tender storytelling paired with a comforting melody, creating a space of solace for listeners worldwide.
Following the success of "Lemon Boy", Skinner's discography expanded with the release of albums "Sleepyhead" and "Man's Best Friend", each further solidifying his standing in the indie music realm. His songs often delve into personal experiences, emotions, and mental health, connecting with a broad audience that finds solace in his authentic narrative. The tracks "Sweet Tooth" and "Snail" from "Sleepyhead" are reflective of Skinner's ability to blend engaging storytelling with catchy, comforting melodies.
A significant facet of Skinner's career involves collaborations with other musicians and artists, fostering a sense of community within the indie music scene. Notable collaborations include Chloe Moriondo, mxmtoon, Sidney Gish, Tessa Violet, Drew Monson, Samsa, Shannen James, Simi, Ghost Boys, and Conor.
Skinner's YouTube channel, a blend of music and candid vlogs, has garnered over 1.5 million subscribers, acting as a testament to his influence.