 Cats
Lola Índigo has mentioned that she favors cats over dogs in past interviews but there is very little information about whether she has any pets at home of her own.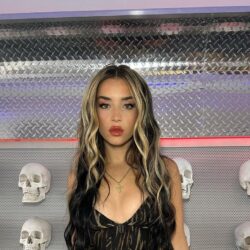 Birthday
April 1, 1992 (31)
Lola Índigo, a versatile artist from Spain, has etched her name in the annals of contemporary music and dance with her unique blend of pop, trap, and reggaeton influences. Leveraging her entrancing stage presence and a keen sense of fashion, Índigo has managed to captivate audiences both nationally and internationally, establishing herself as a trailblazer in the Spanish-speaking music industry.
Lola Índigo's career took flight following her participation in the television series 'Operación Triunfo 2017'. Despite being the first contestant to be eliminated, she didn't let this setback hinder her artistic journey. Instead, she used it as a catalyst to redefine herself, emerging stronger and more determined. In 2018, she released her debut single, "Ya No Quiero Ná", which garnered widespread attention and served as a testament to her perseverance. This was followed by her first album "Akelarre", and subsequently, her sophomore album "La Niña", both of which showcased her prowess as a singer and dancer.
Throughout her blossoming career, Lola Índigo has worked alongside a variety of talented individuals from the music and entertainment industry. She has collaborated with artists like Rauw Alejandro, a prominent figure in Latin urban music, on the track "Trendy". Her song "Mujer Bruja" featured Spanish singer Mala Rodríguez and became a hit in Spain. Beyond her homeland, she has partnered with international artists like Argentine singer Duki for the song "4 besos" and Dominican artist Don Patricio on "Culo". Other noteworthy collaborations include ventures with artists such as Beret, Khea, Belinda, and Martina Stoessel. Additionally, she has also featured in television shows like 'The Dancer' as a judge, sharing the panel with esteemed personalities like Miguel Ángel Muñoz and Rafa Méndez.
Lola Índigo's outstanding contribution to the music industry has been recognized with several distinctions. She has received numerous awards like the 'Best Spanish Act' at the 2020 MTV Europe Music Awards. Her single "Me quedo" fetched her the title of 'Best Collaboration' at the LOS40 Music Awards 2019. Further, in 2021, her vibrant single "Santería" garnered her the award for 'Best Videoclip' at the Odeón Awards.