Eugene and Walter "Corky" Bostick are two fantastic brothers who live in Fort Worth, Texas. Together they lived on a dead-end street, where not-so-fantastic humans would sometimes abandon their poor doggos. So the retired pair has spent the last two decades or so rescuing and fostering as many dogs as they can. They would get them spayed or neutered and let them live on their farm property.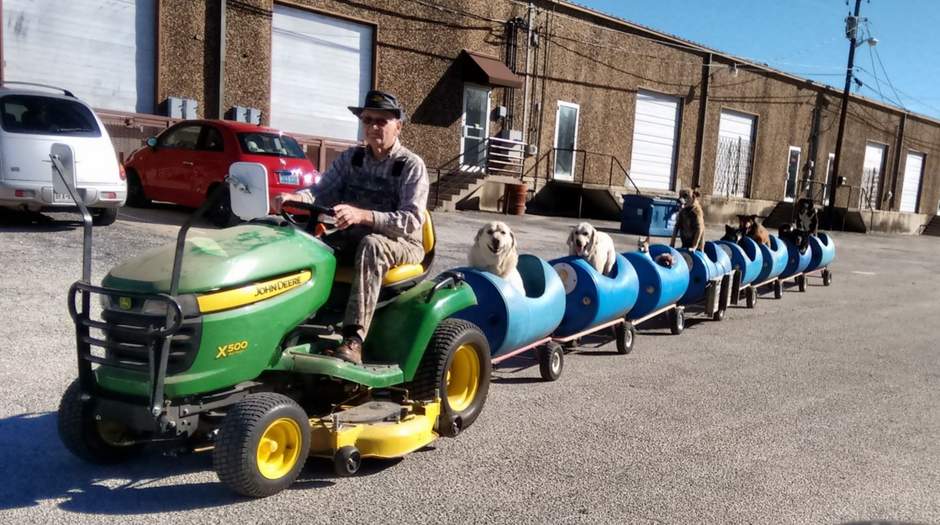 Then a few years back, Eugene saw a guy using a tractor like a train to pull carts filled with rocks. And Eugune had the fun idea that he could make one but for his dog pack.
Using his welding skills, he turned several barrels into carts to transport the four or five rescues he had. Being an elderly guy, it can be challenging to walk multiple dogs. And with the doggy train, he could take them all into town for a walk!
Then more stray dogs turned up wanting a ride, and he obliged by extending the train, for a total of eight carts. The brothers said that when ever they'd honk the train's horn, all the dogs would get pumped up and ready to jump in. Photos and videos of the train in action quickly went viral, which helped the brothers raise funds to help care for their growing dog pack.
In April 2020, Corky sadly passed away at the age of 91. But don't worry, his brother Eugene continues his role as dog train conductor, with his happy passengers barking with joy as they cruise around town!
Related: Bunny's Benz – Disabled rescue dog gets custom Mercedes wheelchair