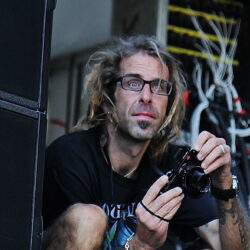 Birthday
February 21, 1971 (52)
Randy Blythe is an influential figure in heavy metal music, lauded for his signature aggressive vocal style as the frontman for the American heavy metal band, Lamb of God.
Blythe's journey with Lamb of God started in 1995 when the band, then known as Burn the Priest, was on the cusp of redefining the heavy metal genre. They released their self-titled debut album in 1999, exhibiting Blythe's distinct screaming vocal style. Over the years, Lamb of God has released several influential albums, like "As the Palaces Burn" (2003), "Ashes of the Wake" (2004), and "Sacrament" (2006). These albums elevated Blythe's standing in the heavy metal scene and amplified his unique vocal prowess. His participation in the band's documentary, "As the Palaces Burn" (2014), showcased not only his musical talent but also his charismatic personality and resilience.
Blythe's collaborations extend beyond Lamb of God, showcasing his versatile and broad-reaching influence in the music industry. He has shared his unique, intense vocal talents with several artists and musicians, such as Max Cavalera (Soulfly), Bobby "Blitz" Ellsworth (Overkill), Joe Duplantier (Gojira), and Neil Fallon (Clutch). These partnerships have resulted in some of the most fiery and dynamic performances in metal. Blythe's joint project with the late Chester Bennington, his Lamb of God bandmate Mark Morton, and members of DevilDriver, including Dez Fafara and Mike Spreitzer.
Over his illustrious career, Blythe has earned recognition for his unparalleled contributions to heavy metal music. In 2007, Lamb of God's "Redneck," from the album "Sacrament," was nominated for a Grammy in the category of Best Metal Performance, marking a pivotal moment for Blythe's career. Additionally, Blythe was named among the Top 50 Heavy Metal Vocalists by "Hit Parader" magazine, a testimony to his vocal prowess and dynamic performances.