 No Pets (Vinny Mauro)
Vinny Mauro does not have any reported pets although he has mentioned his affection for dogs on many occasions, particularly chocolate labs. We're sure it's a matter of time before he adopts his own.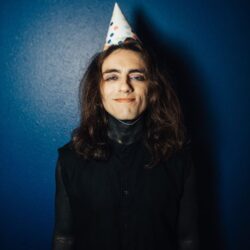 Birthday
November 22, 1993 (29)
Vinny Mauro is an American musician. He is known for his eccentric black-necked stage appearance with Motionless in White, which has taken place since 2014. He joined the band only 9 years ago after it was launched back in 2005 and replaced their previous drummer who left to pursue other endeavors outside of music . Motionless in White consists of Chris "Motionless" Cerulli (lead vocals), Ryan Sitkowski (lead guitar), Ricky "Horror" Olson (rhythm guitar), Vinny Mauro (drums), and Justin Morrow (bass).