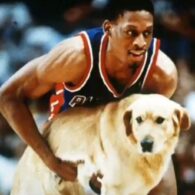 Air Buddy
On April 24, 1992, when Dennis Rodman was playing for the Detroit Pistons against the New York Nicks, he had to grab a fan who rushed the court. This fan happened to be a Golden Retriever named Air Buddy… Yes, as in the basketball-playing dog that played Air Bud in the 1997 film Air Bud. Before his feature film debut, Buddy made appearances on America's Funniest Home Videos and Late Night with David Letterman to show off his basketball skills. He then went on to perform during NBA halftime shows, which earned him the nickname "Air Buddy". Buddy lived from March 1988 until February 1998.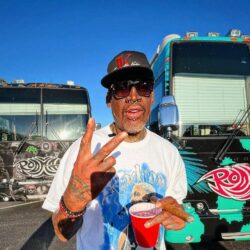 Birthday
May 13, 1961 (61)
Dennis Rodman, an American retired professional basketball player. While his basketball career is notable, his accomplishments extend far beyond the court. Rodman began his basketball career at Southeastern Oklahoma State University before being drafted by the Detroit Pistons in 1986. During his time with the Pistons, Rodman helped lead the team to two NBA championships in 1989 and 1990. He then played for the San Antonio Spurs, the Chicago Bulls, and the Los Angeles Lakers, earning a total of five NBA championships during his career. Rodman's exceptional rebounding and defensive skills earned him numerous accolades, including two NBA Defensive Player of the Year Awards.
Aside from his basketball accomplishments, Rodman has also appeared in several films, including "Double Team" alongside Jean-Claude Van Damme, and "Cutaway" alongside Tom Berenger. Rodman has also made guest appearances on television shows such as "Celebrity Apprentice" and "The Rodman World Tour."
Rodman's appeared in Madonna's music video for "Material Girl" and was once married to actress Carmen Electra. He has also collaborated with rapper Eminem, appearing in his music video for "Without Me." Rodman has even appeared in a commercial with the iconic wrestler Hulk Hogan.
There is some controversy around Rodman's friendship with North Korean leader Kim Jong-un. In 2013, Rodman visited North Korea and met with Kim, sparking criticism from many in the United States. Rodman defended his friendship with Kim, stating that he believed he could help improve relations between the two countries.