Juno, one of three rescued sea otters at the Oregon Zoo, is going viral for her latest basketball highlight reel.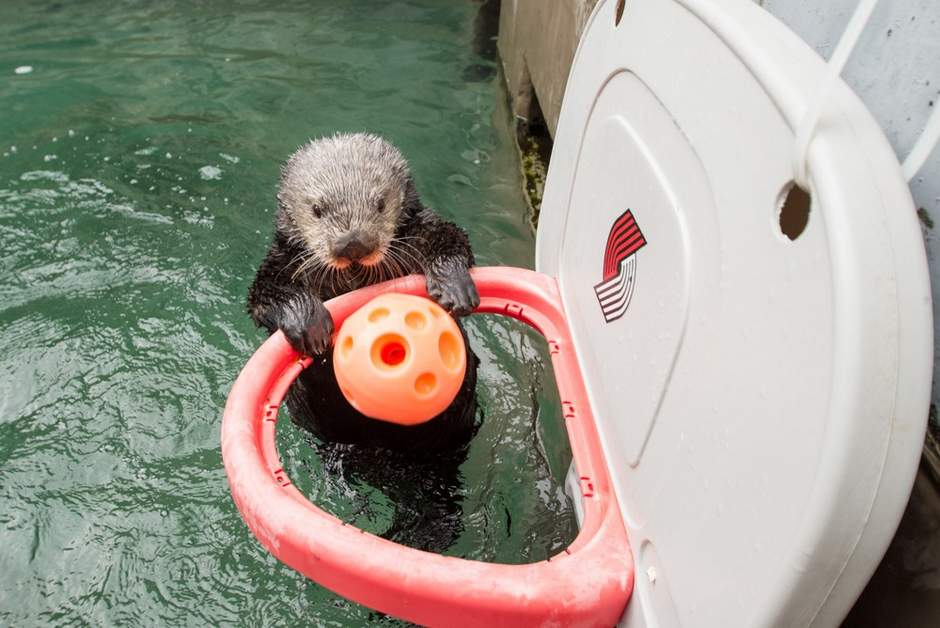 In the video below, you can see Juno dodge, duck, dip, dive, and dunk with ease. Also, note her well-earned all-star ball and her custom otter-style rock basket. And while she'll take the glory and celebrity pet status, the real reason she balls is for her physical and mental health. If you're also a fan of watching cute otter videos, you'll most likely see them using their adorable lil hands to play with family, find food, and use rocks to crack open clams. So to help keep Juno active with her arms and fight off stiffness and arthritis as she gets older, she's taken up basketball!
Juno is still relatively young for a sea otter at 9 years old, so you may be wondering how she balls so hard? Well, like any pro athlete, there may be some natural talent, but it comes down to putting in the hours. And Juno has been shooting hoops since '19, which you can check out below.
FYI, Juno isn't the first in the Oregon Otter All-Stars. Eddie went viral way back in 2013 for his b-ball skills. He was also lived to be one of the oldest sea otters in the world, passing away in 2018 at the age of 20.
Eddie, along with Juno and the other sea otters currently living at the Oregon Zoo, are orphans that could not be released back into the wild. Sea otters used to have a large population off the Oregon coast, but were hunted to extinction in the early 1900s. The Oregon Zoo and the Elakha Alliance (a tribal-initiated nonprofit) are leading the effort to reintroduce them into the local ecosystem. This will, in turn, help maintain the circle of life there. #hakunamatata
For more info on Sea Otters, visit oregonzoo.org.
For more ballin' pets, check out:
Christian and Scooby, the basketball-playing chihuahua, prove you don't have to be tall to ball
The history of "Air Bud" and Buddy, the basketball-playing golden retriever