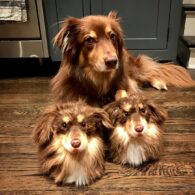 Finn Seyfried
Let's face it, pets are famous in this day and age. Thanks to Instagram, Facebook, memes, and the Internet, pets draw more attention than 99% of our friends. Owners who are responsible enough to adopt have been soaking up the cuteness, weirdness, or the hilariousness of their pets for years, and it will never stop. However, this might be one of the very few cases where a pet is significantly more popular than their "celebrity" counterpart.
Meet Amanda Seyfried's dog Finn. Her Instagram is loaded with photos and some could say he's majorly responsible for her million of followers. An adorable, lovable, and huggable, Australian Shepherd, Finn has been featured in every magazine imaginable. Appeared in editorials, and featured more times than her movies. If you're looking for cute photos, love Australian Shepherd's, or just want some dog photos to build your own memes, make sure to stop by Amanda Seyfried and Finn's Instagram. Yes Finn has his own account as well.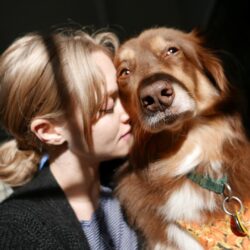 Birthday
December 3, 1985 (37)
Amanda Michelle Seyfried, born December 3, 1985, is an American actress, model, and singer. Many know her best from her breakout role in Mean Girls, Seyfried began her career as a model when she was 11. Her acting career took off at 15 with recurring parts in All My Children. Since then, she has appeared in the crime drama Alpha Dog (2006) and starred next to Megan Fox in the horror film Jennifer's Body (2009). Seyfried has been well spoken as well as a strong advocate of adopting rescue dogs.