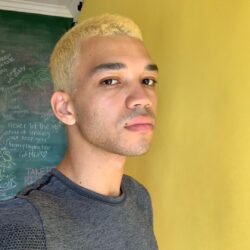 Birthday
August 9, 1995 (28)
Justice Smith is an American actor, best known for his roles in popular films and TV series such as "Jurassic World: Fallen Kingdom", "Detective Pikachu" and "The Get Down". He began his acting career in 2013 with a guest role on the TV series "The Thundermans" and has since appeared in several other TV shows and films including "Dungeons & Dragons" in 2023.
Smith's oeuvre is a blend of both small screen and big screen ventures. He made waves with his role as Ezekiel Figuero in Baz Luhrmann's "The Get Down," a Netflix musical drama that explored the rise of hip-hop in the 1970s. He solidified his place in Hollywood by starring in "Jurassic World: Fallen Kingdom" and lending his voice to the Pokémon world through his role as Tim Goodman in "Pokémon Detective Pikachu." His acting chops were also evident in "Paper Towns," where he played Radar, a character caught up in a web of teenage intrigue and mystery.
When it comes to collaborations, Smith has rubbed shoulders with an array of talent across the film industry. Working with Ryan Reynolds in "Pokémon Detective Pikachu" offered a comedic twist, while acting alongside Chris Pratt and Bryce Dallas Howard in "Jurassic World: Fallen Kingdom" was an exercise in blockbuster dynamics. In "Paper Towns," he shared the screen with Cara Delevingne and Nat Wolff. His role in "The Get Down" had him working closely with Shameik Moore, Herizen F. Guardiola, and Skylan Brooks. In the 2020 movie "All the Bright Places," he starred alongside Elle Fanning. Additionally, Smith has crossed paths with talents like Kathryn Newton in "Detective Pikachu," Jaz Sinclair in "Paper Towns," and Daniella Pineda and James Cromwell in "Jurassic World."
Smith's body of work has earned him not just popularity but also prestigious recognition. He received a nomination for Outstanding Actor in a Drama Series for his role in "The Get Down" at the 49th NAACP Image Awards. Moreover, his performance in "Pokémon Detective Pikachu" was so impactful that it led the movie to gross more than $430 million worldwide, thus marking it as one of the most commercially successful films based on a video game.