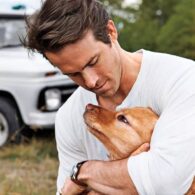 Baxter
Baxter is a big golden retriever Reynolds adopted while he was married to Scarlett Johansson in 2008. Since they split, Baxter lives with his dad full-time. Reynolds said this about meeting Baxter, "I saw this big, dumb-looking retriever staring up at me. I whispered to him, 'Hey, let's get the hell out of here.' And he jumped up like he spoke English fluently. He came with me, he jumped in the car, and we've been best buddies ever since."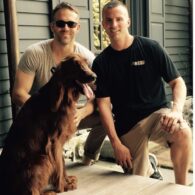 Billie
Ryan Reynolds sent his pup, Billie to obedience training. Reynolds says that before the training, "Billie was spitting acid at Sigourney Weaver and haunting the dreams of priests. Now she's a leash-free, stress-free, fur-covered badass. And a certified general accountant."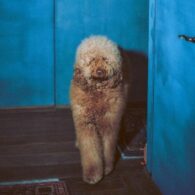 Boots
Ryan Reynolds has three dogs, one is a Labradoodle named Boots. Boots made a rare appearance on Reynolds' Instagram with this striking photo from famed photographer Guy Aroch. Reynolds said this in the caption, "This is my dog, Boots. She had her hair washed and her lips done hoping to be photographed by the one and only @guyaroch. He took this shot. His inspiration was pure pity. It was so extra and we were all really embarrassed for her. #WorthIt"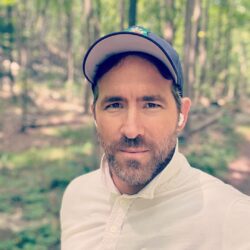 Birthday
October 23, 1976 (46)
Ryan Reynolds is a Canadian-American actor born in Vancouver, British Columbia. He has been acting since the early 90s. He gained popularity for roles in National Lampoon's Van Wilder (2002), and Waiting… (2005). Finding a string of successes including being the People Magazine's Sexiest Man Alive 2010, Ryan Reynolds is one of the highest-grossing film actors of all time, with a worldwide box-office gross of over $5 billion. He earned his star on the Hollywood Walk of Fame in 2017.
His biggest box office release came in 2016 when he starred in the film Deadpool (2016). The film generated $782 million against a $58 million budget and broke numerous records including the highest-grossing R-rated film at the time. The film was also Marvel's first R-rated film. The success of the film led to a sequel Deadpool 2 in 2018 which outgrossed the original with $785 million worldwide. The film became the ninth-highest-grossing film of 2018.
In 2020, he became a co-owner of Welsh football club Wrexham A.F.C with Always Sunny in Philidelphia star Rob McElhenney. In 2021, he starred in Free Guy with Jodie Comer, Pokimane, Joe Keery, Channing Tatum, and Taika Waititi. Reynolds is married to actress Blake Lively.