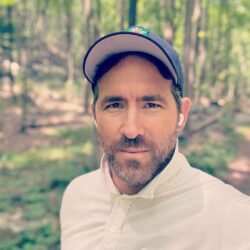 Birthday
October 23, 1976 (46)
Ryan Reynolds is a Canadian-American actor born in Vancouver, British Columbia. He has been acting since the early 90s. He gained popularity for roles in National Lampoon's Van Wilder (2002), and Waiting… (2005). Finding a string of successes including being the People Magazine's Sexiest Man Alive 2010, Ryan Reynolds is one of the highest-grossing film actors of all time, with a worldwide box-office gross of over $5 billion. He earned his star on the Hollywood Walk of Fame in 2017.
His biggest box office release came in 2016 when he starred in the film Deadpool (2016). The film generated $782 million against a $58 million budget and broke numerous records including the highest-grossing R-rated film at the time. The film was also Marvel's first R-rated film. The success of the film led to a sequel Deadpool 2 in 2018 which outgrossed the original with $785 million worldwide. The film became the ninth-highest-grossing film of 2018.
He famously teamed up with Hugh Jackman for a series of humorous social media videos, and has also worked with the likes of Samuel L. Jackson in the action-comedy film "The Hitman's Bodyguard." Reynolds has collaborated with Sandra Bullock on the romantic comedy "The Proposal," and with Anna Kendrick in the dark comedy "A Simple Favor." He has also appeared alongside Jeff Bridges in the supernatural action-comedy "R.I.P.D." and with Jake Gyllenhaal and Rebecca Ferguson in the sci-fi thriller "Life." Reynolds has worked with director Michael Bay on the action film "6 Underground," and with director Shawn Levy on the video game-inspired action-comedy "Free Guy" alongside Jodie Comer, Pokimane, Joe Keery, Channing Tatum, and Taika Waititi. Reynolds is married to actress Blake Lively.
In 2020, he became a co-owner of Welsh football club Wrexham A.F.C with Always Sunny in Philidelphia star Rob McElhenney.