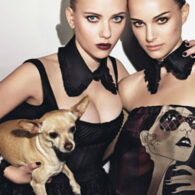 Maggie
When Scarlett Johansson got her first apartment to herself, she decided she should get a dog, so she adopted Maggie the Chihuahua. She also says Maggie could be part ham, because she looks a bit like ham and also smells like ham, apparently. We're guessing since Maggie was born in 2005, she has since passed on.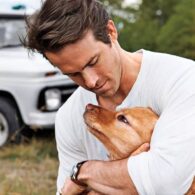 Baxter
Baxter is a big golden retriever Reynolds adopted while he was married to Scarlett Johansson in 2008. Since they split, Baxter lives with his dad full-time. Reynolds said this about meeting Baxter, "I saw this big, dumb-looking retriever staring up at me. I whispered to him, 'Hey, let's get the hell out of here.' And he jumped up like he spoke English fluently. He came with me, he jumped in the car, and we've been best buddies ever since." Trooper
Scarlett Johansson has a cat named Trooper.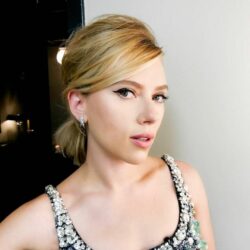 Birthday
November 22, 1984 (38)
Scarlett Johansson is also known as ScarJo. She is known to have a cockroach phobia (called katsaridaphobia). Scarlett Johansson is best known for her acting career. She is the recipient of various accolades, including a Tony Award and a British Academy Film Award, in addition to nominations for two Academy Awards and five Golden Globe Awards.
Scarlett Johansson Puppy
Scarlett Johansson crashed a puppy party with Matt Damon and Christian Bale. The star is filmed on the TIFF 2019 scene with the other actors. Reaching out with open arms, Scarlett Johansson receives a puppy from someone off screen and it is pure magic.
Scarlett Johansson Career
Scarlett Johansson is an American actress born November 22, 1984. On top of many critically acclaimed film roles, she is highest-grossing actress in North America with her movies making over $3.5 billion, earning her an estimated net worth of $100 million. Her films have grossed over $14.3 billion worldwide, making Johansson the ninth-highest-grossing box office star of all time.
Johansson Family
Her mother was a producer and film buff, leading to Scarlett and her siblings getting into acting as children. Her first film role was at 9 years old in the fantasy comedy North. After a few small roles she was cast in Manny & Lo (1996) which at age 12 earned her a nomination for the Independent Spirit Award for Best Lead Female. Her next notable role came in 1998 in The Horse Whisperer, which earned her several award nominations.
Scarlett Johansson's Breakout Role
Her breakout role as an adult actress came in 2003, playing opposite Bill Murray in Sofia Coppola's Lost in Translation. Most recently she's been known for her big budget action movies, such as portraying the Black Widow in the Captain America film series with Chris Evans and the Avengers film series. Her most recent starring role is in the 2017 adaption of the anime Ghost in a Shell. She is also known for her public relationship with actor Ryan Reynolds with them getting married in 2008 and divorced in 2011.
In 2010, Johansson began portraying Black Widow in the Marvel Cinematic Universe which led to 11 years of Marvel films as well as her solo film Black Widow (2021) costarring Rachel Weisz, David Harbour, and Florence Pugh.
Personal Life
Scarlett Johansson began a relationship with Colin Jost in May 2017, whom he met at an SNL afterparty when Johansson was hosting. In May 2019, Jost and Johansson were engaged. They married in October 2020, at their New York home. They had a son named Cosmo in August 2021.