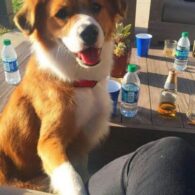 Dodger
Chris Evans has a beloved rescue dog named Dodger that's a Boxer-mix breed. Evans was filming for the movie Gifted, where one of the scenes was in a dog kennel. He asked if the dogs were actors or were actually rescue dogs. After finding out they were up for adoption, he picked out Dodger.
Birthday
June 13, 1981 (42)
Chris Evans is an American actor, widely known for his breakout role as Johnny Storm in the Marvel Comics adaptation, Fantastic Four and its sequel Fantastic Four: Rise of the Silver Surfer. However, it was his casting as Steve Rogers in Captain America: The First Avenger that launched Evans into international superstardom and solidified his position as a leading actor in Hollywood's modern film industry.
Evans' repertoire extends beyond his superhero persona. He showcased his acting versatility in a variety of genres, from independent dramas to big-budget blockbusters. His roles in films like Sunshine, a gripping science fiction thriller, and Scott Pilgrim vs. The World, a comic-based action comedy, helped define his early career. He took on the role of a cunning lobbyist in Puncture and embodied a young father's struggles in Gifted. Evans demonstrated his skill at psychological horror in The Red Sea Diving Resort. However, his portrayal of Ransom Drysdale, a spoiled playboy in the whodunit Knives Out, allowed him to venture out of his heroic image, earning him critical acclaim. Furthermore, Evans ventured into television with Defending Jacob, a gripping mini-series where he portrayed a father grappling with his son's legal predicament.
In his illustrious career, Chris Evans has collaborated with numerous esteemed actors and directors. His frequent collaborations with the Russo Brothers in the Avengers series are legendary. The partnership resulted in some of the highest-grossing films of all time, such as Avengers: Endgame. Furthermore, his on-screen chemistry with fellow actors Robert Downey Jr., Scarlett Johansson, and Samuel L. Jackson added depth and charisma to the Marvel Cinematic Universe (MCU). Evans' cinematic collaboration with Rian Johnson in Knives Out presented an exciting divergence from his heroic roles. Off-screen, he worked alongside brother Scott Evans and friend Mark Kassen in their joint venture, A Starting Point, a website dedicated to promoting political understanding and participation.
Over the years, Chris Evans has amassed numerous distinctions for his powerful performances. He has been nominated for several awards, including the Teen Choice Awards, MTV Movie Awards, and People's Choice Awards, and won a Saturn Award for Best Comic Book-to-Film Actor for Captain America: The First Avenger. Furthermore, Evans' iconic portrayal of Captain America led to him being immortalized with a star on the Hollywood Walk of Fame in 2011. His captivating performance in Knives Out also earned him a nomination for the prestigious Golden Globe Award for Best Supporting Actor.
Known for his love for animals, Chris Evans is a vocal advocate for pet adoption and animal rights. He owns a rescue dog named Dodger, whom he often shares adorable posts with on social media. Evans' commitment to animal welfare extends beyond his personal life. He supports several non-profit organizations, including the ASPCA and the Humane Society, promoting their work and participating in fundraising events.
In September 2023, Chris Evans married actress Alba Baptista.