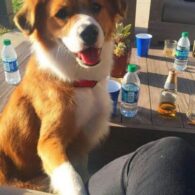 Dodger
Evans was filming for the movie Gifted, where one of the scenes was in a dog kennel. He asked if the dogs were actors or were actually rescue dogs. After finding out they were up for adoption, he picked out Dodger. He says Dodger is about a year old, but acts like an excited puppy. He also said they play, exercise and sleep together.
Birthday
June 13, 1981 (41)
Christopher Robert Evans is an American actor born. Best known for his movie roles as Marvel Comics superheroes. After high school, he moved to New York City to attend a theater and film school and pursue a career in acting. After getting his first leading role in The Newcomers, he was cast as a lead in 2001's Not Another Teen Movie which gave him wider recognition. After a few independent films, he landed his breakout role as the Human Torch in the Fantastic Four in 2004 and its sequel in 2007, co-starring Jessica Alba. After several more films, he was cast in his now iconic role as Marvel's Captain America for Captain America: The First Avenger in 2014. This was followed up with Captain America: The Winter Soldier and Civil War, co-starring Scarlett Johansson, along with Avengers film series.
Chris Evans admits to being crazy about dogs. On top of recently adopting a rescue, he also appeared in videos to promote Love Your Pet Day.