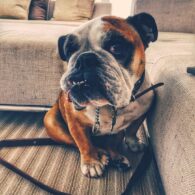 Coco the Dim Mak Dog
Coco Aoki, aka the Dim Mak Dog, is a jetsetting bulldog that tours the world with his famous human. We're not sure if Coco is adopted or not, but Aoki does his part to promote the adoption of bulldogs and support organizations like the SoCal Bulldog Rescue. Coco and Steve have also appeared on Cesar 911 with Dog Whisperer Cesar Millan. Coco also has her own Instagram account, so make sure to check follow her!
Birthday
November 30, 1977 (45)
Steven Hiroyuki Aoki is an American EDM producer, music executive, and DJ. He is one of the most successful touring DJs, earning an estimated $23 million per year with an estimated net worth of $55 million. Some of his family is also famous: his dad Rocky Aoki the founder of the restaurant chain Benihana and his half-sister is actor/model Devon Aoki.
Aoki founded his own music label called Dim Mak Records in 1996, where he produced, remixed, and released music for a range of electro-house artists. He found growing success with his production and remixes through the 2000s, creating popular remixes for artists and bands such as Kanye West, Eminem, Lil Wayne, Snoop Dogg, Bloc Party, Peaches, and the Jackson 5. During this time he also toured constantly as a DJ.
Besides mixes and compilations, he didn't release his first studio album until 2012 with Wonderland. This was followed up by Neon Future I and Neon Future II, with Neon Future II expected in 2017. He continued to tour through the 2010s to great success as well, making him one of the wealthiest and popular DJs working today.