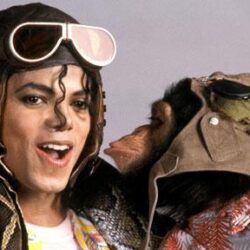 Birthday
August 29, 1958 (65)
Michael Jackson is also known as MJ and occasionally known as the King of Pop. He liked to collect exotic pets and animals. Michael Jackson is famous for his singing and performance career and also for the controversy surrounding his lifestyle in the press. Over the years after he passed away, Michael Jackson's pets on Neverland Ranch were adopted by charity groups and non-profit organizations that homes the animals. Some are still around today.
Michael Jackson lived from August 29, 1958 until June 25, 2009. And, because of his career, he's widely considered to be one of the most famous and influential performing artists in modern history. Jackson had his own private zoo at his Neverland Ranch. The zoo housed a plethora of trained and untrained pets including his most favorite (and famous) chimpanzee named Bubbles. Jackson's ownership of many exotic animals made him a subject of criticism from animal activists. Animal activists accused Jackson of animal cruelty after people found his abandoned Neverland Ranch Zoo in squalor. The tabloids surfaced photos of the rusted and very small cages the animals lived in. Needless to say, this was not a good look for the Prince.
The Guinness World Records recognizes Michael Jackson as the "Most Successful Entertainer of All Time". He earned an estimated $750 million in his lifetime. In fact, even after his death he remained one of the top-earning celebrities and was pulling in $825 million in gross sales for 2016. Currently, his estate's net worth is estimated to be around $600 million.
Michael Jackson's daughter is Paris Jackson and his son is Prince Jackson. He also has a son named Bigi Jackson, formerly known as "Blanket", who keeps his life private.
Michael Jackson Pets and Animal Collection on the Neverland Ranch
Throughout his adult life, MJ invested a sizeable amount of his fortune into his animal collection. And, his iconic home, Neverland Ranch, housed a myriad of exotic animals in his private zoo. On any given day, Michael would be able visit his pet elephant, lions, tigers, baboons, orangutans, flamingos, snakes, giraffes, alligators, a llama, and more.
After his death, Michael Jackson's animals at Neverland Ranch became dispersed to new locations and owners. His two tigers, Thriller and Sabu, are now at Shambala. Shambala is a wild-animal preserve in Arizona, run by Melanie Griffith's mother and actress Tippi Hedren. Rikki, his favourite bird, and his four giraffes all live at The Voices of the Wild Foundation in Page, Arizona. The alligators and a python named Madonna now live at a roadside zoo in Oklahoma. The flamingos now live in a zoo in New Jersey and two orangutans went to live with a private owner in Connecticut. Sources have just recently reported that MJ's favourite chimpanzee, Bubbles, is residing at the Centre for Great Apes in Florida.
Michael Jackson Collaborations
Michael Jackson's collaborations includes amazing works with some of the most influential artists in the world.
Michael Jackson and Mick Jagger – State of Shock: The song was released in July 1984 in a joint venture between The Jacksons and Mick Jagger. State of Shock became one of biggest hits from the Jacksons' Victory album, reaching number 3 on the US Billboard Hot 100 and number 14 on the UK Singles Chart. The song was originally set to feature Freddie Mercury. Listen to the Song.
Michael Jackson & Paul McCartney – Say Say Say: Released in October 1983, Say Say Say became number one hit in the United States , Canada, Norway, Sweden and several other countries, reached number two in the United Kingdom, and peaked within the top ten in Australia, Austria, New Zealand, the Netherlands, Switzerland and over 20 other nations. In 2013, Billboard magazine listed the song as the 41st biggest hit of all time on the Billboard Hot 100 charts. Listen to the Song.
Michael Jackson & Janet Jackson – Scream: "Scream" is the lead single from Michael Jackson's ninth studio album, HIStory: Past, Present and Future, Book I (1995). At a cost of $7 million, it was listed in the Guinness World Records as the most expensive music video ever made; however, director Mark Romanek has refuted the claim, saying that there were two other music videos from the same era which cost "millions more" than the video for "Scream". Listen to the Song.
Michael Jackson & Freddie Mercury – There Must Be More To Life Than This: The song was originally written by Freddy Mercury in 1981, recorded with Michael Jackson in 1983, and later released to the public in 2014. Listen to the Song.
Michael Jackson & Britney Spears – The Way You Make Me Feel: The song was original released by Epic Records on November 9, 1987 as the third single from his seventh studio album Bad. It was written and composed by Jackson, and produced by Quincy Jones. In September 2001, Michael Jackson performed "The Way You Make Me Feel" with Britney Spears at the "30th Anniversary Celebration, The Solo Years" concert at New York's Madison Square Garden. Listen to the Song.