 No Pets (Angela Merkel)
Angela Merkel does not have any reported pets.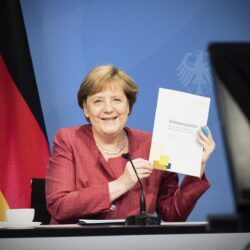 Birthday
July 17, 1954 (69)
Angela Merkel is a pivotal political figure, primarily celebrated for her 16-year tenure as the Chancellor of Germany.
Initiating her political career in the tumultuous time of the fall of the Berlin Wall, Merkel quickly ascended in the ranks of the Christian Democratic Union (CDU), setting the stage for her long and impactful chancellorship. Initially, Merkel worked as a research scientist until 1989, before swiftly transitioning into politics post-reunification. Her standout moment came in 2005 when she was elected as the first female Chancellor of Germany. Her era as a leader was defined by the management of significant global events, such as the Eurozone crisis, the 2015 European migrant crisis, and the COVID-19 pandemic.
Throughout her illustrious career, Merkel worked with many notable world leaders. Her interaction with U.S. Presidents such as George W. Bush, Barack Obama, Donald Trump, and Joe Biden marked the changing American policies towards Europe and the world. She shared a close professional relationship with French Presidents Nicolas Sarkozy, Francois Hollande, and Emmanuel Macron, all key to forging European Union policies. Similarly, her association with UK Prime Ministers from Tony Blair to Boris Johnson impacted the relations between the EU and Britain, particularly during the Brexit phase. Notably, her rapport with Russian President Vladimir Putin proved critical in managing Europe-Russia relations.
Merkel's tenure is replete with numerous recognitions and honors. She was named as Time Magazine's 'Person of the Year' in 2015, highlighting her leadership during the European financial and refugee crises. In 2020, the Financial Times named her as 'Person of the Year,' commending her response to the COVID-19 pandemic. She was awarded the Presidential Medal of Freedom, the highest civilian award in the United States, by President Barack Obama in 2011. Internationally, Merkel received the prestigious Charlemagne Prize in 2008, acknowledging her contributions to European unity.