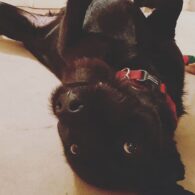 Nemo (Dog)
Nemo, a black Labrador Retriever-Griffon dog, was adopted by former French President Emmanuel Macron and his wife, Brigitte Macron, from an animal shelter run by the Société protectrice des animaux (SPA) near Paris in 2017. Originally named Marin, the presidential couple renamed him Nemo after Captain Nemo, a character from Jules Verne's novel "Twenty Thousand Leagues Under the Sea," reflecting Macron's fondness for the book. Nemo took residence in the Élysée Palace, the official home of the French president, on August 28, 2017. On his first day, he greeted Idriss Déby, the president of Chad, along with President Macron. Interestingly, Nemo was included as a fictitious author in a paper published in the Asian Journal of Medicine and Health in 2020, intended to expose the journal's dubious publication practices.
Birthday
December 21, 1977 (45)
Emmanuel Macron, the former President of France, has been a decisive figure in global politics, best known for his transformative presidency and tenure as Minister of Economy, Industry, and Digital Affairs under François Hollande's administration.
Macron's career trajectory has been a compelling one. His stint as an investment banker at Rothschild & Cie Banque honed his analytical acumen and was instrumental in shaping his economic policies. However, it was in the realm of politics where he truly found his calling. Macron, noted for his youthful energy and reformist approach, served as Deputy Secretary-General under President Hollande before his appointment as Minister of Economy, Industry, and Digital Affairs. Here, his ambitious and progressive economic reforms, encapsulated in the 'Macron Law,' pushed the envelope of French economic policies, often sparking heated debates.
In the world of politics, alliances are as vital as individual brilliance. Macron's collaborations with political heavyweights have been defining moments of his career. He worked closely with figures such as Édouard Philippe, his first Prime Minister, with whom he navigated a challenging political landscape. He also engaged in substantive dialogue with international leaders like German Chancellor Angela Merkel, Canadian Prime Minister Justin Trudeau, and former U.S. President Donald Trump, fostering relationships that significantly impacted global policies. Furthermore, Macron's relationship with his political mentor, François Hollande, and contemporaries like Marine Le Pen, marked significant moments in his career, shaping the course of French politics in ways that are still being felt.
Recognition of Macron's influential career is extensive. In 2018, he received the Charlemagne Prize for his vision of a new Europe and contributions to European unity. That same year, Forbes ranked him as the 14th most powerful person in the world. His innovative policies and diplomatic skills led to his being decorated with the Grand Cross of the Legion of Honour, France's highest national award.