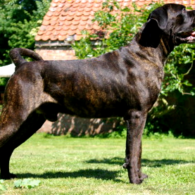 King
Cane corsos are big mastiff-like dogs from Italy, known for hunting and guarding. James says King is like him, looks big and fierce, but really is just fun and playful. LeBron James is 6'9 and an absolute monster on the court, so yes, we would agree that he looks 'big and fierce' but as for being fun and playful, we'd love to find out for ourselves! Come down and see us, LeBron, bring King and we can play ball.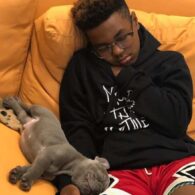 Indigo Sky
When LeBron James signed onto the LA Lakers, he got his family a french bulldog puppy named Indigo Sky to celebrate. Indigo Sky is a bratty little bully, and once took a poop on James' kitchen floor while his kids were playing a mock-interview game. The dog is on thin ice — we'll see if LeBron's family trades the pup in the next season.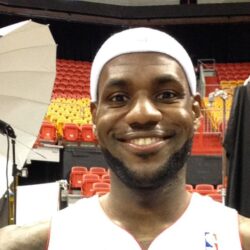 Birthday
December 30, 1984 (38)
LeBron Raymone James, also known as The King, King James, The L-Train, LBJ, The Chosen One, The Akron Hammer, and Bron Bron, is an American professional basketball player who was born on December 30, 1984. Considered one of the most successful NBA players of all time alongside names like Michael Jordan and Shaquille O'Neal, he has an estimated net worth of $275 million. He has won three NBA championships, three NBA Finals MVP Awards and four NBA MVP Awards. James has been part of the NBA All-Stars team and has won two Olympic gold medals. He's played for the Cleveland Cavaliers from 2003 until 2010, before moving to the Miami Heat until 2014. He has since played for the Cavaliers but as of 2022, he plays for the Los Angeles Lakers.
Basketball History
LeBron James was the first overall NBA draft pick in 2003 when he joined the Cleveland Cavaliers. In 2010, he made the move the Miami Heat, where he led with Dwyane Wade and Chris Bosh to four NBA finals, winning two. In 2016 he won the championship for the Cavaliers, ending their 52-year streak without a championship win.
LeBron James Off the Court
As one of the most successful and influential athletes alive, he's also known off the court his brand sponsorships with brands such as Nike, Coca-Cola and Beats Electronics. He's also known for his philanthropy through his LeBron James Family Foundation and helping various organizations such as the Boys & Girls Club and the Children's Defence Fund. in 2014, he married his long-time girlfriend Savannah Brinson, who he has three boys with.