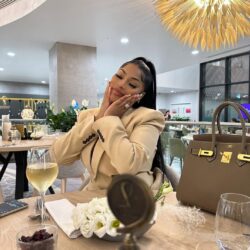 Birthday
December 14, 1991 (31)
Stefflon Don is a British rapper, singer, and songwriter. Stefflon Don's breakout release was in 2016 when she launched her debut single "Real Ting." The song was an instant hit, and it helped to establish Stefflon Don as a rising star in the UK music scene. Since then, she has gone on to release several successful singles, including "Hurtin' Me," which peaked at number seven on the UK Singles Chart and was certified platinum in the UK and the US.
Stefflon Don collaborated with French Montana on the song "Hurtin' Me." The track was a massive hit, and it helped to catapult Stefflon Don into the international spotlight. She has also collaborated with other influential artists such as Lil Kim, Sean Paul, and Skepta. In addition, Stefflon Don has been featured on the soundtrack of the hit TV show "Power" and has made appearances on shows like "The Late Late Show with James Corden" and "The Tonight Show Starring Jimmy Fallon."
Stefflon Don's music is not only popular, but it has also been recognized with numerous awards and nominations. She won Best Female Act at the 2017 MOBO Awards and was nominated for Best New Artist at the 2018 BET Awards. Stefflon Don was also included in the Forbes 30 Under 30 list in the music category in 2018.