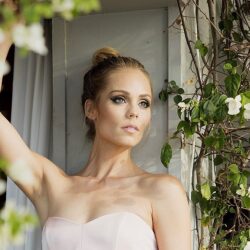 Birthday
September 22, 1984 (39)
Laura Vandervoort is a Canadian actress, popularly recognized for her impressive performances in the television series 'Smallville' and 'Bitten.'
Making a mark in both film and television, Vandervoort's work is as diverse as it is prolific. Perhaps best remembered for her portrayal of 'Supergirl' Kara Zor-El in the American television series 'Smallville', she demonstrated an ability to deliver nuanced performances within the confines of the fantastical DC universe. This was a breakout role for Vandervoort, setting the stage for future successes. Transitioning into darker, more mature roles, she gained considerable attention for her performance as Elena Michaels, the world's only female werewolf, in the Canadian TV series 'Bitten'. Vandervoort's work in film has also drawn praise, with key roles in 'The Lookout', 'Jigsaw', and 'Rabid'.
Throughout her career, Vandervoort has shared screen time with an array of celebrities, her work resonating with audiences and industry peers alike. In 'Smallville', she starred alongside the likes of Tom Welling, Erica Durance, and Michael Rosenbaum, navigating the high-stakes world of superheroes and villains. In 'V', a science fiction series, she worked with notable actors such as Morena Baccarin and Scott Wolf. Her foray into horror with 'Jigsaw' and 'Rabid' saw her collaborate with celebrated figures of the genre like Tobin Bell and directors the Soska Sisters. Vandervoort has also lent her voice alongside Hayden Christensen, Mena Suvari, and Jim Broadbent in the animated feature, 'My Brother's Keeper.'
Vandervoort's professional journey is punctuated by a host of honors, reflecting her contributions to the industry. A prime example of her recognition is the 2014 Canadian Screen Award nomination she received for Best Performance by an Actress in a Continuing Leading Dramatic Role for her work in 'Bitten'. Not to be outdone by her on-screen performances, Vandervoort was also awarded the 2016 Women in Film & Television Showcase 'Spotlight Award'.
Outside of acting, Vandervoort has been a vocal advocate for animal welfare. She has teamed up with organizations like PETA on multiple occasions, even posing for their 'Exotic Skins' and 'Whose Skin Are You In' campaigns, demonstrating a commitment to promoting a cruelty-free lifestyle.