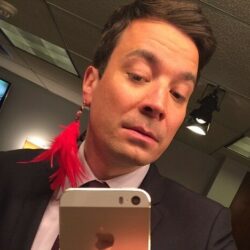 Birthday
September 19, 1974 (49)
Jimmy Fallon is a name that has become a household name in late night television. The American comedian, actor, and television host has been a fixture on screens both big and small for decades, entertaining audiences with his quick wit and infectious humor.
Fallon's breakout role came when he joined the cast of Saturday Night Live (SNL) in 1998. During his six-year tenure on the show, he became known for his impressions of famous personalities such as Jerry Seinfeld, Adam Sandler, and Mick Jagger.
In addition to his work on SNL, Fallon has also made a name for himself as a successful television host. He took over from Conan O'Brien as the host of Late Night with Jimmy Fallon in 2009, and later became the host of The Tonight Show Starring Jimmy Fallon in 2014.
In 2015, he partnered with the animal welfare organization Bideawee to host a charity event to raise funds for animal shelters in New York City.
The Tonight Show Starring Jimmy Fallon
The Tonight Show Starring Jimmy Fallon has featured many high-profile guests over the years. Some of the top guests who have graced the show's stage include A-list celebrities such as Tom Hanks, Jennifer Lawrence, Will Smith, and Robert Downey Jr., athletes like Dwight Howard, musicians like Justin Timberlake, Taylor Swift, and Ariana Grande have also made multiple appearances and have even participated in some of the show's popular segments like "Lip Sync Battle" and "Musical Genre Challenge". Political figures like former President Barack Obama and presidential candidate Hillary Clinton have also been guests on the show, bringing a touch of political humor and insight to the late-night talk show format.
When actor John Lithgow, who's also known for painting animal portraits, was a guest on Fallon's show, he presented him with a portrait of his dog Gary Frick.