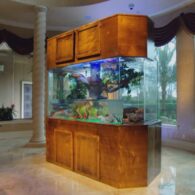 20 Pet Snakes, one name Minnie (Snake)
Reportedly seen right as you enter Dwight's home, a $70,000 fish and snake tank is in immediate view. The tank is filled with not 1, but 20 snakes and Dwight Howard loves them all equally. Although one is named Minnie, and we're sure he likes that one the most. In addition to a the large terrarium, he also has 50 guns and a bazooka laying around in case they get out of line.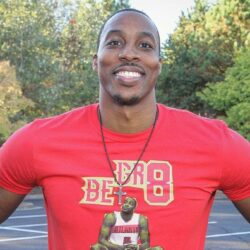 Birthday
December 8, 1985 (38)
Dwight Howard is an American basketball player. A power forward and center for the Los Angeles Lakers of the National Basketball Association (NBA), Howard has been a force to be reckoned with on the court since he was drafted first overall in 2004.
One of Howard's breakout roles came early in his career when he played for the Orlando Magic. During his time there, he led the team to the NBA Finals in 2009 and was named the Defensive Player of the Year in three consecutive seasons. This was a huge accomplishment for Howard, as it cemented his reputation as one of the best defensive players in the league.
In addition to his on-court success, Howard has also collaborated with a number of other celebrities and influential people throughout his career. He has been featured in music videos with artists like Bow Wow and David Banner, and has appeared on television shows like "The Ellen DeGeneres Show" and "Late Night with Jimmy Fallon". In 2013, he even made a cameo appearance in the hit movie "Scary Movie 5".
Aside from his work in basketball and entertainment, Howard is the founder of the D12 Foundation, which works to support animal welfare initiatives and provide resources for at-risk youth.