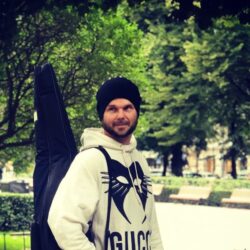 Birthday
April 23, 1979 (44)
Lauri Ylönen is the lead vocalist of The Rasmus, a Finnish rock band that has significantly influenced the global music scene since its formation in 1994. Their sound, which meshes elements of rock, gothic tunes, and pop melodies, has provided a unique backdrop for Ylönen's evocative lyrics and distinctive voice.
Their discography is expansive, with albums like "Dead Letters" and "Hide from the Sun" gaining immense popularity and making waves in international charts. "In the Shadows," one of the tracks from "Dead Letters," became a pivotal song not just for the band but also for Ylönen himself, marking their entry into the global music limelight. Other noteworthy tracks include "First Day of My Life," "No Fear," and "Livin' in a World Without You."
Over the years, Ylönen's collaborations with various artists and celebrities have been notable. He teamed up with Apocalyptica for the song "Life Burns!" and with Ville Valo for the track "Bittersweet." He's also collaborated with artists like Vesa-Matti Loiri, Anette Olzon, and Pauli Rantasalmi, further showcasing his versatile musical reach. Moreover, Ylönen has been part of other projects and bands, such as the group "New World" with Aku Rannila, Herra Ylppö, Mikko Mäkinen, and other Finnish music mainstays.
Recognition for Ylönen's work with The Rasmus is far-reaching. Their album "Dead Letters" received multi-platinum certifications in several countries, with "In the Shadows" winning the Best Nordic Song category at the NRJ Radio Awards in 2003.