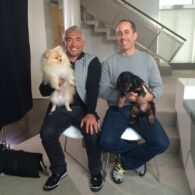 Josie and Foxy
Jerry Seinfeld brought in Cesar Milan to help him with his dachshunds, Josie and Foxy. He even cracked a joke that Cesar wouldn't be up for the task:
"Here's where I feel really bad 'cause this poor guy, who has fixed every dog he's ever met … he's not gonna fix this dog," says Seinfeld. "When he leaves he's gonna be in tears, 'cause he's gonna have to say to me, 'I'm sorry there was nothing I could do. This is one messed-up dog. This dog is a sick puppy.'"
(He was)
Jerry Seinfeld is an American stand-up comedian, actor, writer, and producer. While he was performing standup comedy for quite some time, he is best known for playing himself in the popular NBC sitcom Seinfeld (1989-1998), which he created and wrote with Larry David. The show includes other popular cast members such as Jason Alexander as George Costanza, and Julia Louis-Dreyfus as Elaine Benes. The show became one of most acclaimed and popular American sitcoms of all time. As a stand-up comedian, Seinfeld specializes in observational comedy. In 2004, Comedy Central named him as the 12th-greatest stand-up comedian of all time.
Seinfeld is married to author and philanthropist Jessica Seinfeld, with whom he has three children. He has also received twenty Primetime Emmy Award nominations for his work on Seinfeld and Comedians in Cars Getting Coffee as well as four Grammy Award nominations for his comedy albums.