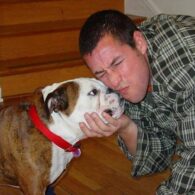 Meatball
Meatball was Sandler's first bulldog, who appeared in the film Little Nicky (2000) and was his ring bearer at his wedding. He died from a heart attack in 2004 and his funeral brought over 100 guests to Sandler's home. To celebrate the beloved dog's life, there were t-shirts given out with his face on them and a giant cake with his face on it as well.
Adam Richard Sandler is an American actor, comedian, musician and film producer. After performing standup comedy and several small TV roles in the late 1980s, Sandler had his feature film debut with Going Overboard (1989). His big break came when he was hired as a writer for Saturday Night Live in 1990. He joined the cast the next year, quickly becoming popular thanks to his musical performances. After saying he was fired from SNL, he went on to star in a series of successful comedies through the late 1990s. This included Billy Madison (1995), Happy Gilmore (1996), The Wedding Singer (1998) and The Waterboy (1998).
In 2002, he starred in Punch-Drunk Love, which earned him critical acclaim and a Golden Globe nomination. More recently, he's known for starring in Grown Ups (2010) and its sequel, starring Chris Rock, David Spade, Rob Schneider and Kevin James. He has currently been releasing a series of original films through Netflix, such as The Ridiculous 6 (2015), The Do-Over (2016) and Sandy Wexler (2017).