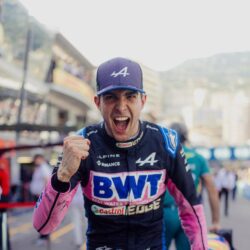 Birthday
September 17, 1996 (27)
Esteban Ocon is a French racing driver known for his remarkable performances in the world of Formula One. Having made his debut in Formula One in 2016, Esteban Ocon quickly captured the attention of fans and experts alike. In the 2017 season, he joined the Force India team (now known as Aston Martin). Ocon showcased his exceptional skills, displaying a combination of speed, precision, and determination on the race track.
In addition to his impressive track record, Esteban Ocon has had the opportunity to collaborate with numerous influential figures in the world of Formula One. He has worked alongside esteemed drivers such as Lewis Hamilton, Sebastian Vettel, and Fernando Alonso, learning from their expertise and contributing to the success of their respective teams.
Esteban Ocon's dedication and skill have not gone unnoticed, as he has been the recipient of several notable awards and accolades throughout his career. In 2015, he was crowned the GP3 Series champion, showcasing his exceptional talent in the world of junior single-seater racing. Ocon's achievements continued in the following years, leading to his entrance into Formula One and his subsequent successes on the international stage.