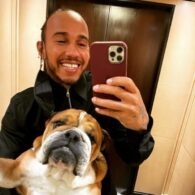 Roscoe Hamilton (Dog)
Lewis Hamilton has a vegan bulldog named Roscoe, who has his own Instagram account. Hamilton, who's also vegan, says told Vanity Fair that shifting his 10-year-old bulldog's diet to vegan in 2020 has made him "like a puppy again" and improved his allergies, joints, and breathing. The son of two champion show dogs, Roscoe is also a model who is said to earn $700 per photo shoot. Hamilton has even frozen Roscoe's champion sperm so he can continue to breed him!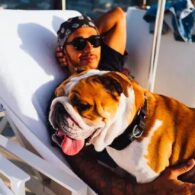 Coco (Dog)
Along with Roscoe, Lewis Hamilton had a rescued English Bulldog named Coco he adopted in 2014. Coco was going to be put down due to her health, but Hamilton saved her. Coco passed away in his arms from a heart attack in June 2020 at the age of 6. Coco had health problems throughout her life, with Hamilton considering her lucky to have enjoyed the life that she had.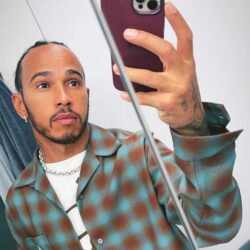 Birthday
January 7, 1985 (38)
Lewis Hamilton is one of the most successful Formula One drivers of all time. He shares the record for seven Formula One World Drivers' Championships with Michael Schumacher. Starting his career in karting, he quickly moved up the ranks to become a Formula One driver for McLaren in 2007.
Hamilton won his first Formula One World Championship in 2008, becoming the youngest driver in history to do so at the age of 23. Since then, he has won six additional world championships, tying him with Michael Schumacher for the most in history. Hamilton has also broken numerous records throughout his career, including the record for most pole positions, most Grand Prix wins, and most points in a single season.
Hamilton has been a brand ambassador for Mercedes-Benz since 2013 and has worked closely with the luxury car brand on a number of campaigns and projects. Hamilton has also worked with fashion designers such as Tommy Hilfiger and collaborated with Tommy Hilfiger on a collection of clothing and accessories. He has also been a guest on talk shows such as The Ellen DeGeneres Show and The Late Late Show with James Corden.
Hamilton has been a vegetarian since 2017 and has spoken out about the benefits of a plant-based diet for both human health and the environment. Hamilton is also a vocal supporter of animal rights and has worked with a number of animal welfare organizations, including PETA and the Humane Society International. In 2020, he launched a plant-based burger chain called Neat Burger, with the aim of providing healthy, sustainable food options that are better for the planet and animal welfare.