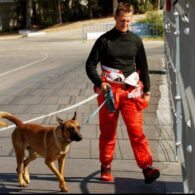 Flea (Floh) (Dog)
F1 legend Michael Schumacher loves dogs and has had many over the years. The most famous of them was named Flea (or "Floh" in German). in the 1990s, Schumacher was competing at the Brazilian Grand Prix and kept running into a stray dog. His family and him had an immediate connection with Flea and found out he would be put to sleep. His wife Corinna joked that if the dog jumps in the car, they'd take him home. Schumacher only half opened the dog and Flea jumped right in. They adopted him and brought him back to Europe. Flea often joined Schumacher at the track, as seen in the photo here. When Flea got older, he went on to live with Schumacher's dad in Germany. Max, Bernie, and Shiva (Dog)
Michael Schumacher had many dogs over the years that got to live it up at his Swiss estate near Lake Geneva. Three of them were named Max, Bernie, and Shiva.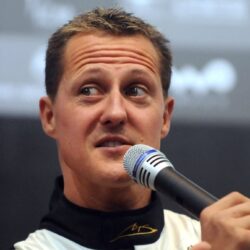 Birthday
January 3, 1969 (54)
Michael Schumacher is a retired German Formula One racing driver. He is widely regarded as one of the greatest and most successful drivers in the history of the sport. He shares the record for seven Formula One World Drivers' Championships with Lewis Hamilton. He began his career in karting in 1988 and won titles in 1991 and 1992 before making the jump to Formula One in 1991. After driving for Jordan, Benetton, and Ferrari, he retired from the sport in 2012. During his career, Schumacher won a record 91 Grand Prix races, 155 podiums, and a record 68 pole positions. He also holds the records for most fastest laps and most races won in a single season.