There are more canine heroes than we can count who have helped humans in times of war. We're going to share the stories of three war dogs that are considered among the most accomplished dogs of World War II. Judy, an English Pointer, who survived an alligator attack, a torpedoed shipwreck, and becoming the first animal Prisoner of War. Chips the German Shepherd, who fought in German, France, Italy, and North Africa, becoming the most decorated dog in military history. And Smoky, who became the world's first recorded therapy dog and went on to become a Holywood celebrity after the war.
Judy – English Pointer – British Navy
Judy is an English pointer who born in Shanghai in 1936 and adopted by British sailors when the war started in the Pacific. She's famous for being the only animal imprisoned as a prisoner of war. As part of the British Navy, she was known for her superdog ability to sense danger, alerting her human crew of incoming enemy airplanes and even invading pirates. Her most notable exploit started when her ship was bombed in the South China Sea, where Judy and her surviving crew were stuck on a deserted island. Judy was able to find fresh water to keep the crew alive until they found a sailboat to commandeer. They then spent five weeks hiking through the Indonesian jungle looking for an evacuation site, which included Judy surviving a crocodile attack.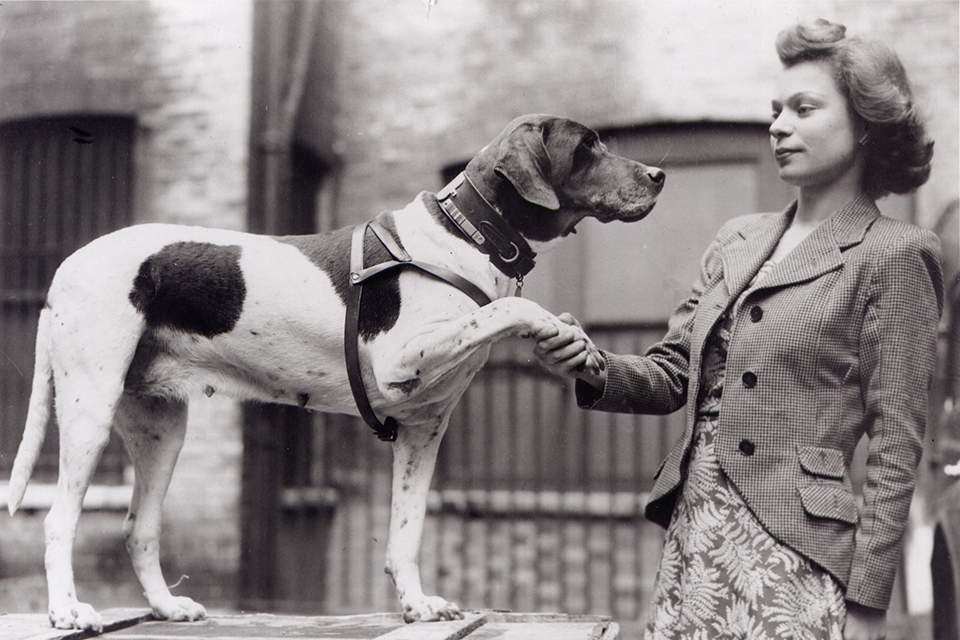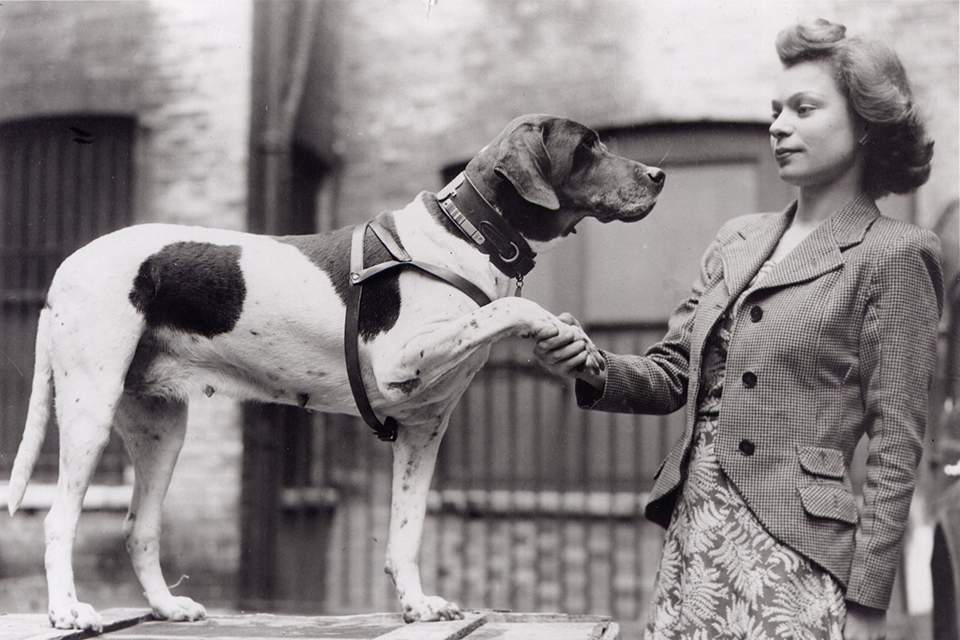 They, unfortunately, missed their evacuation and stumbled upon a village occupied by Japanese troops. A member of Judy's crew was able to convince their captors not to kill Judy, but also give her official POW status, which protected her. Through two years in the POW camp, Judy kept her crew's spirits high. Then while being transferred via a Japanese military ship, they were torpedoed. Judy managed to survive along with some of her crew. Sadly 500 men drowned, but Judy did her best to help show survivors the way to safety. They were again caught and sent to a POW camp, but were finally released the next year in 1945. Judy went on to live with Frank Williams, the human who talked her into getting POW status and also ensured she got off the torpedoed ship. She was awarded the Dickin Medal of Valor for her bravery. Judy also had a book written about her.
Chips – Husky/Collie/German Shepherd Mix – US Army
Chips saw combat across many fronts, including Germany, France, Italy, and even North Africa. One of his many notable victories includes taking part in a siege of an Italian machine-gun nest. He took off from his handler to storm the nest, helping capture 10 enemy soldiers but suffered burns and a head wound. He became the most decorated dog of WWII, receiving the Purple Heart, Silver Star, and distinguished Service Cross. Apparently, due to army policy on animals, they couldn't really give him official recognition of these awards and retracted them. Chips spent his years as a veteran in New York, before passing away in 1945. Like Judy, Chips was awarded the Dickin Medal of Valor, but after he had passed. Disney made a TV movie about him in 1990, called Chips the War Dog.
Smoky – Yorkshire Terrier – US Airforce
Last but not least, is the smallest entry in the list. Smoky doesn't look like your typical military pooch, because she isn't. She started life as a civilian and was found by allied troops lost in a foxhole in the New Guinea jungle. He quickly rose to the challenge, taking part in a dozen combat missions and surviving over 100 air raids. Her most legendary accomplishment took place on an airstrip in the Philipines. There he was able to quickly pull a telegraph wire through a 70-foot pipe, saving troops and engineers from having to risk enemy fire. He also entertained the troops with tricks and general mischief. For her bravery and keen sense of humor, Smoky was awarded eight battle stars. She's also considered the first recorded therapy dog, for accompanying nurses to treat battlefield casualties.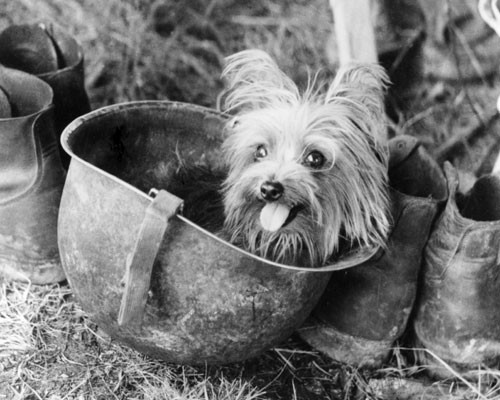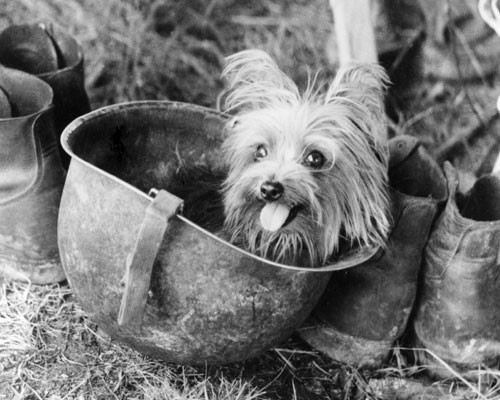 Smoky's story didn't end with the war. With her fame and skills, she went on to have a 12-year career in Hollywood and toured as a trick and stunt performer. And her stardom didn't make her forget where she came from, as she would often visit veterans' hospitals to entertain them as well. She passed away in 1954 at the age of 14. A book was written about her, using her nickname "Yorkie Doodle Dandy" as the title. A memorial for Smoky is found in Lakewood, Ohio, where you can see a statue of Sandy recreating her famous photo.