Ever wonder how your pay check lines up against say, a Birman cat's salary? Have you ever wondered about the lives of pooches and pussies who live in the lap of luxury? From private jets to personal maids and butlers, these pets have it all.
Check out the privileged pets of the fashion world who have more money than you.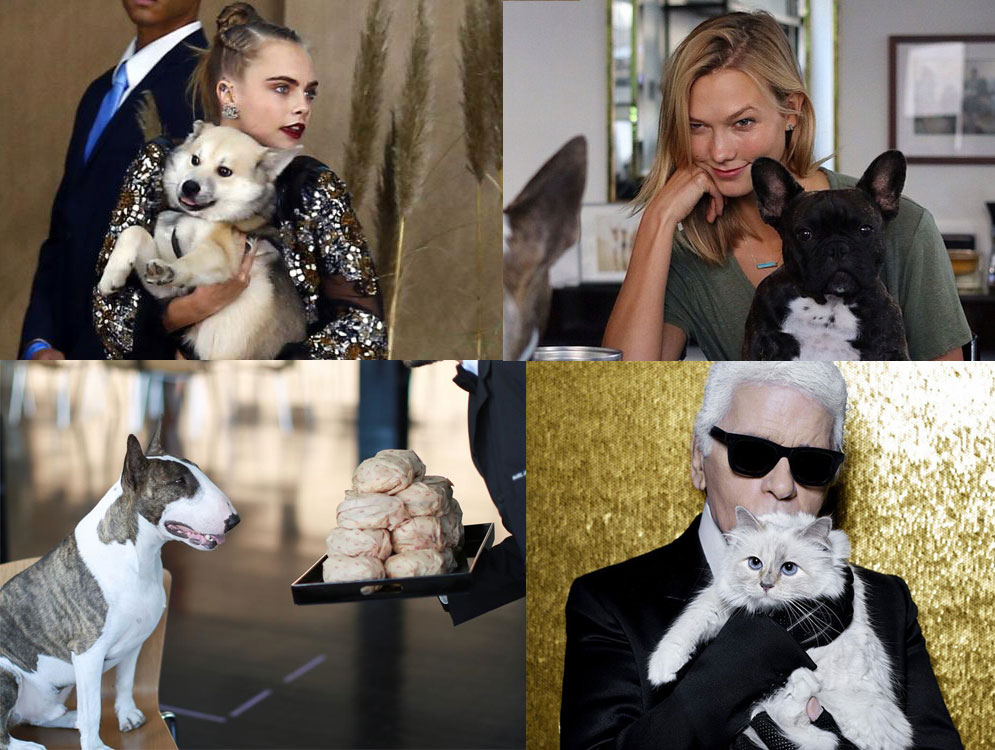 Karl Lagerfeld's famous blue-eyed parisian Birman kitty Choupette is worth over $4 million dollars. She has reported earning just over $3 million in 2014 for two days of work. Choupette earned more from a makeup collaboration with Shu Uemura and posing for the 2015 Opel Corsa car calendar shoot than most people do in their entire lifetime.
Lagerfeld keeps the bourgeois kitty in the utmost comfort with two personal maids, an iPad, a personal chef and access to a private car and jet for summers in Provence. Choupette, of course, is allowed access to the cockpit in the plane because she "loves to look at the sky". The pretty kitty only eats specially prepared meals out of Goyard dishes (costing $4,500) next to her daddy at the table – of course. She has only ever been denied one thing: Beluga caviar and not because of its exorbitant price which can reach up to $10,000/kg. The caviar is simply too salty for the feline's diet, according to Choupette's personal vet. Although it looks like Lagerfeld gave birth to the fluffy white haired feline, he had actually stole Choupette from employee Baptiste Giabiconi. As Baptiste knew, when your boss is Karl Lagerfeld and he wants something of yours, you don't ask questions.
Valentino's pug entourage has their own private butler and car to escort them to the owner's private jet. Molly, the mother of the canine broad, and her offspring Margot, Maude, Maggie, Monty and the tragically deceased Milton all compromise the designers dog troop. Valentino has stated that he cares less about his collection less than he does for his dogs, and you can tell when you see the pups having free range of photoshoots and dress fittings, strolling alongside models and peeing indiscriminately on sets. When your father is worth $1.5 billion dollars, apparently you can urinate where you please.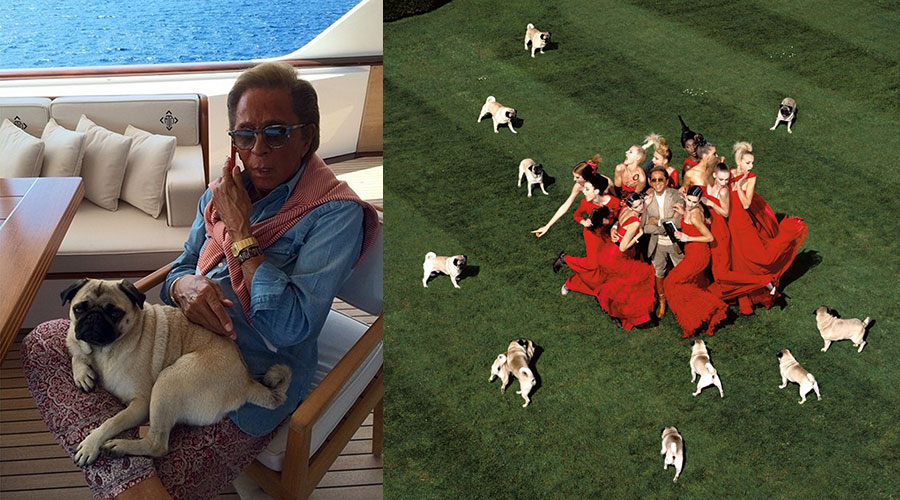 Vera Wang has an army of tiny, handbag sized cute dogs. The designer owns two pomeranians, two yorkies and a chihuahua. The pets all accompany her to her $11 million Southampton estate to tan by the pool and provide support while Wang sketches out her infamously expensive evening wear.
Custom made clothing, diamond studded collars and vacations in the Caribbean, Audrey Versace is one seriously pampered pooch. The jack russell terrier accompanies mother Donatella Versace to work where she trods on the trains of expensive dresses, free from fear of retribution. Audrey flies on private jets, has daily massages with baby oil and sleeps on Versace silk sheets.
One cannot forget the insta-famous pooch who has 'authored' his own memoir. Neville Jacobs, Marc Jacobs' Bull Terrier has almost 200k followers on Instagram. He vacations in St. Barths with his squad of ridiculously cute dogs. Neville is no stranger to indulging in some doggy decadence, he demonstrates as he eats hamburgers off of a silver platter held by a handsome, tuxedoed gentleman. He has a wardrobe full of custom made couture which would make any socialite jealous and does photoshoots with supermodels like Kendall Jenner, Karlie Kloss, Gigi Hadid, Emily Ratajkowski and Cara Delevingne.