22 pounds. 18 years. Those are big numbers for any kitty. But they ain't stopping Smudge from getting back in shape!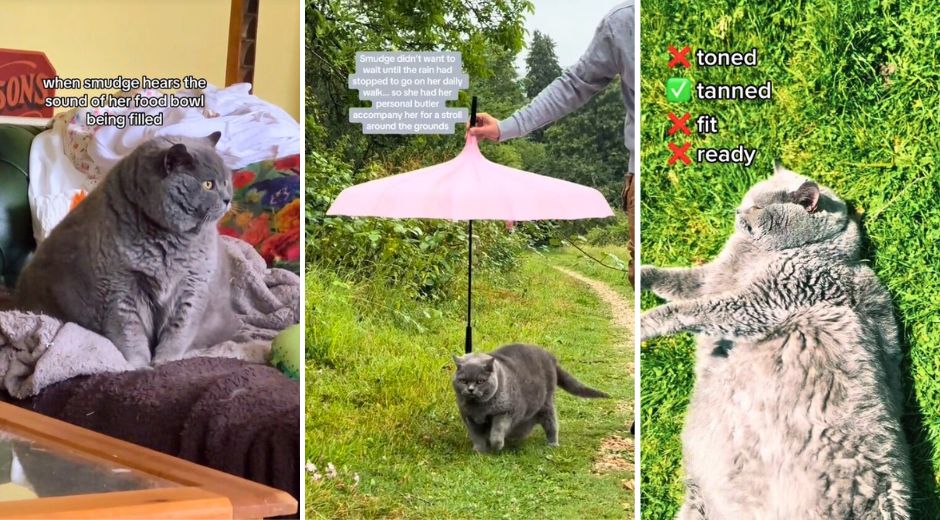 She was already chonky when she was adopted a couple of years ago, but continued to gain weight with her new humans, Kate and Matt. They eventually figured out Smudge was stealing food from his kitty roommate Ruby. With those extra pounds at her age, it was also hurting her joints and adding to her arthritis.
With the help of their vet, they made a diet and exercise plan to ensure Smudge lives a healthy life moving forward. And Smudge does move forward… But she doesn't look too pleased about it…
To get back in shape, they carry Smudge to the end of their yard and let her walk home. The grumpy expression on her face as she waddles says, "Fine. I'll walk. But I won't agree to enjoy it." Then in July, a TikTok of her human Matt holding an umbrella for Smudge while she gets her exercise went viral, with over 3.5 million views!
This effectively launched Smudge's career as a feline fitness influencer. If Smudge can tough it out – rain or shine – at her age and weight – then why can't we? Since then, she's gone on to inspire countless humans and pets to get active (even if you don't want to.)
For more feline fitness inspo, follow @smudgeandfriends on TikTok. And for another inspirational kitty, meet Willy Wonky, the Wobbly feline inspiring millions of fans to adopt special needs cats.