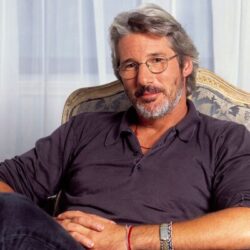 Birthday
August 31, 1949 (74)
Richard Gere is an iconic American actor known for his captivating performances over four decades. Gere's breakout role was in the film "American Gigolo" (1980), directed by Paul Schrader. The movie catapulted Gere to stardom and cemented his position as a leading man in Hollywood. He followed up this success with a string of hit films, including "An Officer and a Gentleman" (1982), "Pretty Woman" (1990), and "Chicago" (2002).
Throughout his career, Gere has collaborated with many talented artists, celebrities, and influential people. He has worked alongside some of the biggest names in Hollywood, including Julia Roberts, Susan Sarandon, Diane Lane, Sean Connery, and Helen Mirren. Gere has also been directed by some of the most renowned directors in the industry, including Martin Scorsese, Francis Ford Coppola, and Garry Marshall.
Apart from his acting career, Gere is also well-known for his advocacy for animal rights. He is a strong supporter of animal non-profit organizations and has been actively involved in raising awareness about animal welfare. Gere is a long-time vegetarian and has campaigned against the use of animal products in the fashion industry. In 1999, he founded the Tibet House US, a non-profit organization dedicated to preserving Tibetan culture.
In addition to his animal advocacy work, Gere has also been involved in various philanthropic efforts. He is a supporter of the Dalai Lama and has worked to raise awareness about the situation in Tibet. Gere has also been involved in HIV/AIDS activism, helping to raise funds and awareness for research and treatment.