 Dogs (Nicki Minaj)
While Nicki Minaj has appeared with many animals in her music video and appearances, she does not have any reported pets. It has been notes that she "prefers dogs".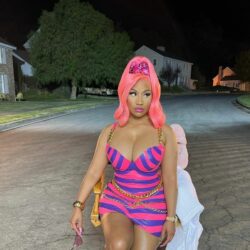 Birthday
December 8, 1982 (41)
Nicki Minaj is a rapper, singer, and songwriter. She is known for her animated flow in her rapping and versatility as a recording artist. She gained popularity after releasing the mixtapes Playtime Is Over (2007), Sucka Free (2008), and Beam Me Up Scotty (2009). In 2010, Minaj released her debut studio album, Pink Friday (2010), which was certified triple-platinum by RIAA and peaked at number-one on the Billboard 200 chart. Her second album, Pink Friday: Roman Reloaded (2012), debuted at number one on the Billboard 200, with its lead single, "Starships", peaking at number five on the Hot 100. Minaj's third and fourth studio albums, The Pinkprint (2014) and Queen (2018), marked a departure from her previous style and a return to her hip hop roots. The former's second single, "Anaconda", peaked at number two on the Hot 100.