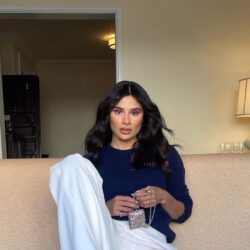 Birthday
July 21, 1986 (37)
Diane Guerrero is an American actress and author best known for her roles in the Netflix series "Orange Is the New Black" and the CW show "Jane the Virgin."
Her body of work has shown significant versatility. One of her most talked-about performances came in the role of Maritza Ramos in "Orange Is the New Black," where she gained critical attention and a strong fan following. She shifted gears by portraying the character of Lina in "Jane the Virgin," adding a comedic flair to her acting skills. Diane also stars in the DC Universe's "Doom Patrol" as Crazy Jane, a character with 64 distinct personalities, each with its own superpower.
Guerrero's career is enriched by working with a wide range of artists and influencers. On "Orange Is the New Black," she shared screen space with Taylor Schilling, Uzo Aduba, and Kate Mulgrew. Her role in "Jane the Virgin" saw her collaborating with Gina Rodriguez, Justin Baldoni, and Jaime Camil. She has also appeared on shows like "Superior Donuts," sharing scenes with Jermaine Fowler and Katey Sagal. In "Doom Patrol," she collaborates with Brendan Fraser, Matt Bomer, and April Bowlby. Additionally, her book "In the Country We Love: My Family Divided," was co-authored with Michelle Burford.
Over her career, Diane has received several honors for her performances and influence. She won three Screen Actors Guild Awards as a part of the ensemble cast for "Orange Is the New Black." Guerrero also became an advocate for immigration reform, turning her focus toward philanthropy and activism. Her book, "In the Country We Love: My Family Divided," has been well-received and became an important contribution to the conversation surrounding immigration in America.