 No Pets (Lance Robertson)
Lance Robertson does not have any reported pets.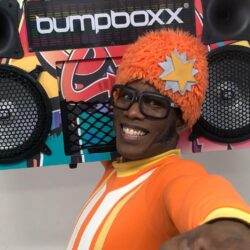 Birthday
April 5, 1965 (58)
Lance Robertson is an American musician, DJ, and actor best known for his role as "DJ Lance Rock" on the Nick Jr. show "Yo Gabba Gabba!"
Lance Robertson initially captured attention in the world of children's television through his character DJ Lance Rock in "Yo Gabba Gabba!," which aired from 2007 to 2015. This show was not just a hit among kids but also attracted a cult following among adults, amassing him fame on a different level. Apart from this, he has also acted in series like "The Aquabats! Super Show!" and has lent his voice to characters in video games such as "Broken Age."
Lance Robertson has worked closely with Christian Jacobs, Scott Schultz, and Adam Deibert on "Yo Gabba Gabba!" itself. Outside of that sphere, he's teamed up with celebrities like Jack Black, Elijah Wood, and Sarah Silverman who made guest appearances on his show. In the music realm, he's collaborated with artists like Biz Markie, Devo's Mark Mothersbaugh, and rapper Erykah Badu. Even athletes like Tony Hawk and actors like Andy Samberg and Angela Kinsey have joined Robertson on his creative journey, making his career a melting pot of talent from various domains.
Lance Robertson's achievements reflect his talent. He was nominated for a Daytime Emmy Award for "Outstanding Performer in a Children's Series" for his work on "Yo Gabba Gabba!" The show itself received several nominations.