 No Pets (Elijah Wood)
Elijah Wood does not have any reported pets. He has been an activist throughout his career supporting animals in countries like Chile and across the United States.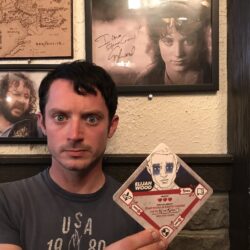 Birthday
January 28, 1981 (42)
Elijah Jordan Wood is an American actor, producer and DJ. In elementary school he started to show talent as an actor in school plays and also worked as a model. His first break was appearing in a Paula Abdul music video in 1988. The next year he had a small part in Back to the Future Part II. His first big role was in the TV film Child in the Night (1990). His first leading film role came in 1993 with The Adventures of Huck Finn.
His most iconic role came when he was cast as Frodo Baggins in Peter Jackson's The Lord of the Rings trilogy of films (2001-2004). The main cast included Ian McKellen, Orlando Bloom, Liv Tyler, Cate Blanchett, Sean Bean, Viggo Mortensen, Bernard Hill, and more. Most recently he's known for starring in the TV series Wilfred and Dirk Gently's Holistic Detective Agency. Beyond movies, he's also formed a famous DJ duo with friend Zach Cowie, called Wooden Wisdom.