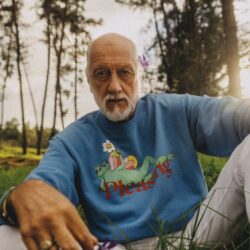 Birthday
June 24, 1947 (76)
Mick Fleetwood is an English musician and actor, primarily known as the co-founder and drummer of the rock band Fleetwood Mac.
Mick Fleetwood has an extensive discography that has shaped the rock and blues genre for decades. With Fleetwood Mac, he released iconic albums such as "Rumours," "Tusk," and "Mirage," which garnered both commercial success and critical acclaim. These albums produced unforgettable hits like "Go Your Own Way" and "Dreams," which have become anthems of their respective generations. He's also ventured into acting, with roles in films like "Zero Tolerance" and "The Running Man."
Collaborating with a diverse array of talents, Mick Fleetwood has worked with John McVie, Christine McVie, Stevie Nicks, and Lindsey Buckingham in Fleetwood Mac. Outside the band, he's collaborated with artists and personalities such as George Harrison, Willie Dixon, Bill Clinton, Carlos Santana, ZZ Top's Billy Gibbons, David Gilmour, and Noel Gallagher.
Mick Fleetwood has been honored with numerous distinctions. Fleetwood Mac was inducted into the Rock and Roll Hall of Fame in 1998, providing a stamp of approval on the group's impactful career. They also received the Brit Award for Outstanding Contribution to Music in 1998. Individually, Fleetwood authored several books, including his autobiography "Play On," and has been involved in various philanthropic ventures, such as the Mick Fleetwood Blues Band to encourage young musicians.