A tortoise named Mrs. T had lived a fine 89 years in the United Kingdom. But then tragedy struck when she turned 90 years old… While hibernating over the winter, rats broke into her den and chewed off her front legs!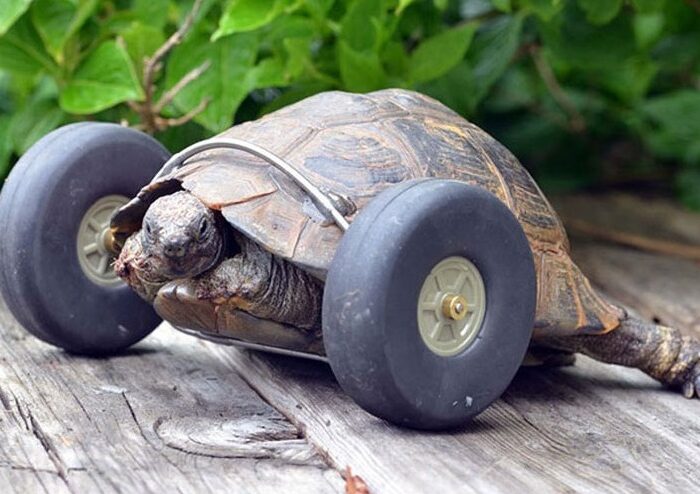 Her human Jude made the horrible discovery when doing her regular checkup on Mrs. T. She went immediately to the vet, where they had to amputate her front legs to save her. Jude was extremely worried that Mrs T wouldn't live a happy life or might not even survive without her mobility.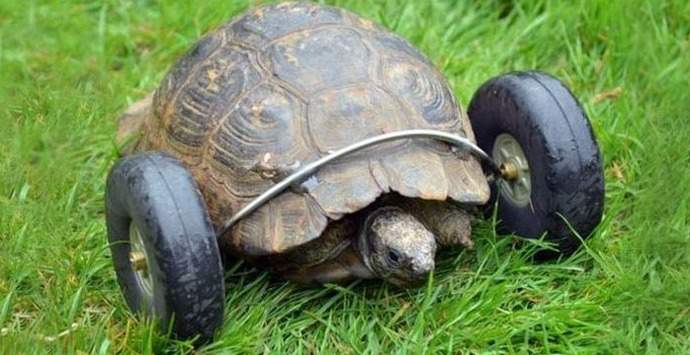 She then contacted her son Dale, who grew up with Mrs. T. Jude got Mrs. T for Dale when the tortoise was around 60 years old and Dale was 8. Dale, now an adult, happens to work as a mechanical engineer. So he came up with the clever plan to use resin to attach model aircraft wheels to Mrs. T's shell.
Related: The wheelchair mafia – disabled shelter dogs turned biker gang
With a fresh set of rims, Mrs. T has her mobility back – At double the speed! But apparently, it took her some time to adjust to turning. So she's set to have a smooth 50 or so more years cruising, thanks to Dale!
Related: Owen the Hippo and Mzee the Tortoise – a one-of-a-kind friendship