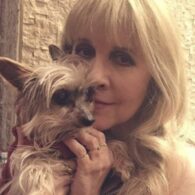 Shulamith (Dog)
A gift from her mom, Shulamith Wülfing was Stevie Nicks' beloved Chinese Crested Yorkshire Terrier mix that was born in 1998 and passed away in 2016 at 18. This little doggy gets her name from a German painter known for mystical and spiritual paintings. The name Shulamith is Hebrew and means "peaceful". When Nicks first got Shulamith, she was freaked out because the pup's back was completely bald, but then found out she was part Chinese Crested. Betta Fish (Fish)
Stevie Nicks has keeps two betta fishes as pets, which have to be kept separate as they'll kill each other. She also has fish funerals where she plays Celine Dion. Nicks told Vogue, "I always have two betta fish, but they have to be separated otherwise they'll kill each other. I stick my finger into their aquarium, and the blue one will swim around my hand like a little dolphin. When my fish get old and suddenly die, I have funerals for them in my backyard where I play Celine Dion. I have them filmed, and everything [laughs]. It's too much, but I thankfully haven't had any recent fish deaths."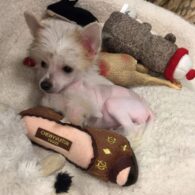 Lily (Dog)
Stevie Nicks currently has one pet dog, a Chinese Crested named Lily. In 2016, a few weeks after the loss of Sulamith, her Yorkie Chinese Crested mix, she saw a photo of Lily and thought she looked like a little tree fairy. Nicks credits Lily with saving her life and says they have a similar temperament.
When talking about Lily to InStyle, she said, "…when I first saw a picture of her online, she looked so cute, like a little tree fairy. I immediately got on a plane to Houston to meet her. Sitting there on the floor in the midst of a litter of Chinese crested puppies, I knew she was the one. I went through every possible name you could imagine, and then I came up with Lily because it made me think of an old chanteuse or a sophisticated actress. Her personality actually reminds me a lot of Marilyn Monroe's. Lily has super-beautiful waist-length white hair and long pink eyelashes. She's dramatic too; she loves everybody — but only to a point. When she's not in good humor, she'll go curl up somewhere where nobody can find her. I think she's taken on some of my idiosyncrasies because I'm the exact same way. We like to go off by ourselves, and now we do it together.
Lily has been on the road with me for most of her life, and she loves it because she gets so much attention. On the day of a show, she stays with me most of the time. She especially loves being there for my vocal warm-up. I even made up a blues song that I sing to her when it's time for her to eat. So far she hasn't gone onstage with me, but I'll bring her out one day. She already knows all of my rock-star friends — Sheryl Crow, Harry Styles, Chris Isaak. Chris draws hysterical pictures of her. She brings so much joy to the entire Fleetwood Mac team, from the band to the people who do the rigging to the caterers. They all come backstage to see Lily because when there's no dog, there's no joy."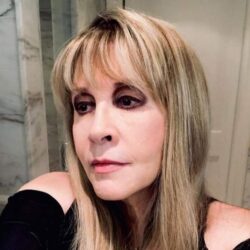 Birthday
May 26, 1948 (75)
Stephanie Lynn Nicks is an American singer, songwriter, and music producer born on May 26, 1948. She's known for being part of the rock band Fleetwood Mac and as a solo artist. She was part of seven studio albums with Fleetwood Mac and released eight solo studio albums, with a total of 65 million copies sold in just the United States. Rolling Stone named her one of the 100 Greatest Songwriters of All Time, one of the 100 Greatest Singers of All Time, and the Reigning Queen of Rock and Roll. Billboard included her debut solo album Bella Donna and Fleetwood Mac's self-titled album and Rumours in their Greatest of All Time Billboard 200 Albums.