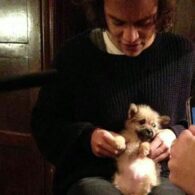 Bear
Harry Styles doesn't currently have a dog or any pets, but with all the photos he posts with dogs he meets, he's clearly a dog lover. The dogs he posts photos of sometimes get confused with being his pets. An example is Bear, a puppy he met shown here which got over 1.7 million likes on Instagram. Styles went viral in 2020 for a Tweet of him kindly looking after a dog while the owner went into a restaurant to pick up his order. He also famously doggysat actress Emma Corrin's dog Spencer, but Corrin told Jimmy Fallon that Styles would never again as Spencer wouldn't stop farting. Dusty (Molly)
Dusty the cat (sometimes called Molly) is one of many cats owned by Harry Styles' mom Anne Twist. Styles often talked about Dusty and even started an Instagram account for her, but took it down once it became public. Hamster
Harry Styles' apparently had a childhood hamster named "Hamster".
Harry Styles is an English singer, songwriter, and actor. His musical career began in 2010 as a solo contestant on the British music competition series The X Factor. Following the show, he joined the band One Direction with Zayn Malik and 3 other contestants, which went on to become one of the best-selling boy bands of all time.
Styles released his debut self-titled solo album through Columbia Records in 2017. It debuted at number one in the UK and the US, and became one of the world's top-ten best-selling albums of the year. He made his acting debut in Christopher Nolan's 2017 war film Dunkirk. Styles' second album, Fine Line (2019), debuted atop the US Billboard 200 with the biggest first-week sales by an English male artist in history, and was listed among Rolling Stone's "500 Greatest Albums of All Time" in 2020. Its fourth single, "Watermelon Sugar", topped the US Billboard Hot 100.