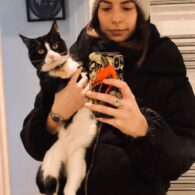 Olivia
Gemma Styles had a Tuxedo cat named Olivia. She got Olivia in 2015 and the beloved kitty passed away in July 2022 at the age of seven.
Her brother Harry Styles made headlines in July 2023 when people noticed he had a tattoo of "Olivia". Many speculated it was a tattoo for his former girlfriend Olivia Wilde, but many pointed out it's most likely a tattoo for his sister's cat, as below it is a tattoo of "Colazione," which was the name of Gemma's previous cat who also passed away. So it's nice/weird to find out Harry dedicated two tattoos to his sister's late kitties.
Beyond heartbroken to say goodbye to our Livvy Anyone who knows Mish and I probably understands the level to which we have adored her for the past seven years – no cat has ever been more loved. We never imagined we wouldn't get more time. I will miss her for the rest of my life. Sleep tight baby girl

@gemmastyles, Instagram, July 2022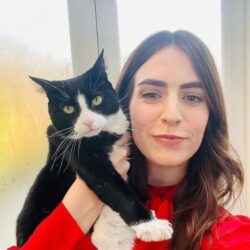 Birthday
https://www.gemmastyles.com/ (53)
Gemma Styles is an English fashion blogger, influencer, and writer. She is the younger sister of Harry Styles, the former One Direction member and successful solo artist. Gemma rose to prominence in her own right as a fashion blogger, and has since become a respected voice in the world of fashion and beauty. She is known for her stylish and effortlessly cool sense of style, and has a large and dedicated following on social media, where she shares her fashion, beauty, and lifestyle tips and insights. Gemma has also been featured in several popular fashion and beauty magazines, and has worked with a variety of high-end fashion and beauty brands on advertising campaigns and collaborations. With her unique sense of style and her passion for fashion and beauty, Gemma Styles is a leading figure in the world of fashion and beauty blogging.