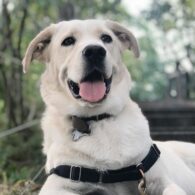 Gordo McDouf
Olivia Wilde adopted Gordo McDouf in 2018. Gordo made headlines in October 2022, when Olivia Wilde's ex-nanny accused Wilde of giving up Gordo to date Harry Styles. It was later revealed that Gordo was happily rehomed with her former New York dogwalker because Gordo wasn't doing well with toddlers and travelling.
Mayeday Rescue, where Wilde adopted Gordo, set the record straight on Instagram, saying "This is Maeday adopted dog Gordon, who we rescued in 2018 from the shelter along with his 4 littermates. (Slide to see baby pics.) Founder of Maeday rescue @nataliewould fostered them and bottle fed them until we found their perfect forever homes. Well, you may have seen Gordy in the news lately and we want to set the record straight. Gordy was adopted to @oliviawilde at 2 months old and after giving him much love and training and travel adventures, she realized that Gordy didn't love the travel life and wasn't happy around toddlers. Gordy had formed a very strong bond with his dog walker and in Gordy's best interest and after much thought and consideration, he was rehomed to his Brooklyn dog walker. Before this decision was made, Olivia called Maeday to discuss, and we were involved in the decision. We pride ourselves on finding that perfect forever home for our Maeday animals and every once in a while the animal is just happier in a different environment and that's okay. Olivia is a huge animal rescue advocate and rehomed Gordy out of compassion and love for him.
The best part is Gordy has his own IG @gord_sounds and as you can see, he is living his best life!
We felt like we should share this because we hate that the media is painting a Maeday adopter in a bad light. Thanks for adopting @oliviawilde and for being a responsible pet owner."
Olivia Wilde is an American actress and filmmaker. She is best known for her role as Remy "Thirteen" Hadley on the medical-drama television series House (2007–2012), and gained international attention after films Tron: Legacy (2010), Cowboys & Aliens (2011), The Incredible Burt Wonderstone (2013), and The Lazarus Effect (2015). She made her Broadway debut in 2017 playing the role of Julia in 1984. In 2019, she directed her first film, the critically acclaimed teen comedy Booksmart, for which she won the Independent Spirit Award for Best First Feature. She was previously married to actor Jason Sudeikis, who she has two kids with. She's currently in a relationship with musician Harry Styles.