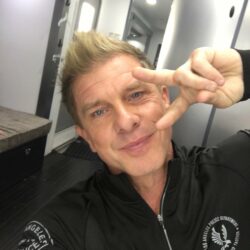 Birthday
July 13, 1963 (60)
Kenny Johnson is an American actor, producer, and director. One of Johnson's most recognizable roles is Detective Curtis Lemansky in the critically acclaimed series "The Shield," which ran from 2002 to 2008. His compelling performance as the corrupt, but ultimately sympathetic cop earned him widespread recognition and a dedicated following. Johnson's work on "The Shield" cemented his status as a talented actor with a natural ability to bring complex characters to life.
In addition to "The Shield," Johnson has appeared in a number of other hit shows, including "Dexter," "Bates Motel," "Chicago Fire," and "Sons of Anarchy." He has also had prominent roles in several films, such as "Blade," "Saving Grace B. Jones," and "The Charnel House."
One of the milestones in Johnson's career was his role in the 2012 film "The Possession." This horror film, which tells the story of a young girl who becomes possessed by a malevolent spirit, was a commercial success, grossing over $85 million worldwide. Johnson played the role of Brett, the father of the possessed girl, and received praise for his nuanced and emotional performance.
Throughout his career, Kenny Johnson has collaborated with a variety of talented artists and celebrities. He worked with Kurt Sutter on both "The Shield" and "Sons of Anarchy," showcasing his ability to maintain strong working relationships with directors and producers. He also starred alongside Michael Chiklis, Walton Goggins, and Catherine Dent in "The Shield," and has appeared in projects with other notable names such as Vera Farmiga, Max Thieriot, and David Boreanaz.