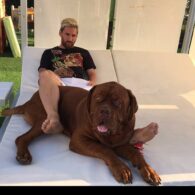 Señor Hulk
Lionel Messi has one dog named Señor Hulk that's a giant French Mastiff, also known as a Douge de Bordeaux. Hulk was given to Messi as a gift from his partner, Antonella Roccuzzo, in February 2016, and his mastiff grew to massive proportions in a few short months. At the time of the massive growth spurt, Messi also happened to be out for four months or longer due to an injury.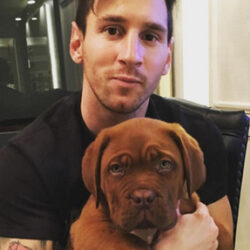 Birthday
June 24, 1987 (35)
Lionel Messi, also known as Leo Messi, is an Argentine professional footballer (AKA soccer). Messi has established records for goals scored during games and has also won awards for his athletic prowess.
Lionel Messi's dog is a big boy. Hulk weighs in at around 100 lbs from tip to tail, while Messi is 148lbs. The two are nearly twins, as you can see. Although, Hulk is only 5 years old to Messi's 34 years as of 2021. It's estimated that Hulk could cost around $80,000. The two can be found in Messi's backyard having a kick-about from time-to-time. Though you may see Lionel Messi playing football (AKA soccer) with other adorable animals — like these baby goats — Hulk is the Messi's one-and-only family pet. Messi does not have a cat.
What kind of dog does Lionel Messi have?
Hulk, also known as Señor Hulk, is a Dogue de Bordeaux. A Dogue de Bordeaux is an intensely powerful mastiff. They're known for being loyal, affectionate, and courageous. Originally hailing from France, mastiff's date back to as long ago as the 14th century. They were found often in southern France in the region around Bordeaux.
Lionel Messi Philanthropy and Animals Rights
Lionel Mess is also known for his dedication to animal welfare through his philanthropic efforts. Messi has been a long-time supporter of animal shelters and has used his platform to raise awareness about animal rights. In 2018, he partnered with the Battersea Dogs and Cats Home in the United Kingdom to promote their annual "Collars and Coats Gala Ball," which raises funds for the organization's animal rescue and adoption efforts.
Lionel Messi has collaborated with a variety of athletes and celebrities throughout his career, both on and off the field. One of his most notable collaborations was with fellow soccer star Cristiano Ronaldo, when the two competed in a charity match in 2012 to raise funds for UNICEF.
Lionel Messi History
Lionel Andrés "Leo" Messi, born June 24, 1987, is an Argentine professional football player playing for the Spanish FC Barcelona and Argentina national team. At the age of 13, he was relocated to Spain due to growth hormone deficiencies. Despite having medical issues at an early age, Messi managed to overcome the odds and made his competitive debut at the age of 17. Messi is now an all-time leading goalscorer for Argentina, won the 2005 FIFA World Youth Championship, finishing the tournament with both the Golden Ball and Golden Shoe, and an Olympic gold medal at the 2008 Summer Olympics. Messi is one of the three-man strike team with Luis Suárez and Neymar, dubbed "MSN". Messi won his first World Cup with the Argentinian team by beating France at the 2022 Qatar World Cup.
Messi has also been featured in several ad campaigns alongside other athletes, including NBA star James Harden and tennis legend Roger Federer. In addition, Messi has made appearances on various television shows and talk shows, including the Ellen DeGeneres Show and The Late Late Show with James Corden. Beyond his collaborations in the entertainment industry, Messi has also been involved in philanthropic efforts with other athletes, including NBA player Pau Gasol and Formula 1 driver Fernando Alonso, to raise funds for various charitable causes. Messi's collaborations with other athletes and celebrities have helped to raise his profile and showcase his wide range of talents both on and off the field.